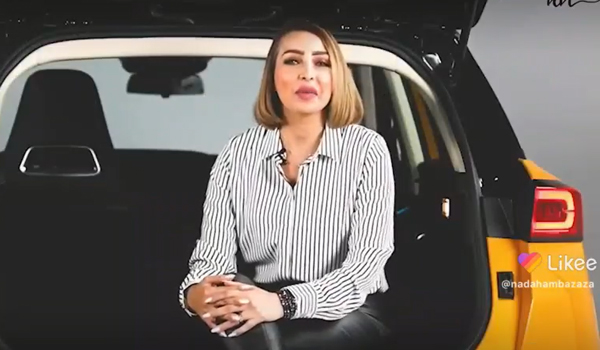 Nada Hambazaza
Female blogger teaches Saudi women everything about cars
RIYADH, February 7, 2023
Nada Hambazaza, the first female Auto Consultant and Car Reviewer based in Saudi Arabia, uses Likee, one of the region's most popular short video platforms, to educate women about cars.
Hambazaza uses short videos to educate women about how to improve their driving. Her videos provide practical advice and tips on how to drive safely, maintain vehicles, and handle common problems that women face on the road. Her videos have been widely shared across social media platforms and have helped to empower and educate Arab women not only in the GCC but across the globe.
Hambazaza has had a lifelong fascination for cars, driving and auto mechanics. She used to observe her uncle as she was growing up and learn about vehicle mechanics from him, and she later began to educate herself about everything related to cars. Hambazaza, who spent her teenage summers in Lebanon, took up the opportunity to obtain her driver's licence at the age of 17 and was able to convert it to Saudi Arabia after the government formally permitted women to drive.
Male domination
Hambazaza observed that male presenters and influencers predominated in automotive reviews in Saudi Arabia, as they did largely across the region. She seized the opportunity to closely observe her friend as he began curating car reviews and concluded that she should attempt to conduct car reviews in her own unique and distinctive manner.
This gave her the chance to put her love of cars and all the knowledge she had acquired over the years to good use. And so, Hambazaza started making a video and worked with her husband on editing. Nada then created her first social media account on a platform for short videos and published the video, which received over 1 million views in just 30 minutes. Seeing the response from people, Hambazaza was thrilled about her new adventure on social media.
Beginning out, she did her research to find women with similar content within the Arab region but was unable to find anyone. Nada only encountered "Supercarblondie," a well-known female automotive content maker, outside of the region, and this inspired her even more to improve the representation of women in the automotive industry.
Volkswagen Owners Club
Hambazaza coordinated the first gathering of female Volkswagen owners throughout the GCC in Abu Dhabi in 2018 as the Vice President of the Volkswagen Owners Club in KSA. She introduced the club's mission during the occasion in her capacity as its official spokeswoman before starting to talk about her experiences and accomplishments as a woman in Saudi Arabia.
She was given the title of "Auto Consultant" by the Volkswagen Chief after the event, which received extensive media coverage in the area. Nada claims that it was thanks to this experience that she was able to establish herself as the first Saudi woman to publish auto reviews on her own social media channel and get widespread recognition online.
Soon after beginning to publish car reviews on social media, Hambazaza noticed that women drove a little differently than others and discovered that this was because women were mostly taught the basics of how to drive a car rather than the practical manner of driving on the streets. Her friends, who weren't as well-versed in cars, began approaching Hambazaza for help on common car problems, as well as, strange noises and lights that would occasionally emerge on their dashboards while they were driving.
Training women
The lack of knowledge of her friends made Hambazaza aware of the significance of training women on the fundamentals of driving and car maintenance. This gave rise to the idea of developing material for a platform to provide information about the standards of driving, security and safety advice, and solutions to resolve minor car issues.
She received overwhelmingly enthusiastic feedback from all of her viewers, the local media, and even the KSA General Directorate of Traffic after publishing this series of informative content under the title of 'To Drive Safely.'
Through the use of short-form videos, Hambazaza has been able to break through boundaries and bring about significant change in her community while offering a new viewpoint and voice in a field that has traditionally male-dominated.
Recognition
Hambazaza has gained recognition from fans across the Arab world by sharing educational automotive content on platforms like Likee, where thousands of viewers have interacted with her videos. She has gotten a lot of nice feedback from her fans throughout time, which has motivated and inspired her to keep sharing content.
Speaking from her own experience, Hambazaza also said that she thinks that platforms such as Likee help educate women about car maintenance and repairs, which she feels is required within the region.
For people who would like to express their ideas and opinions about things they believe would benefit society, short form videos have been able to become an ideal space where they can share their thoughts freely and connect with like-minded people. By expressing her passion and realising the importance of educating women about cars, Hambazaza has been able to amass a significant following across her social media. As social media continues to play an important role in the lives of people in the Middle East, short form video tools will likely continue to be a powerful tool for driving positive change in the region.-- TradeArabia News Service