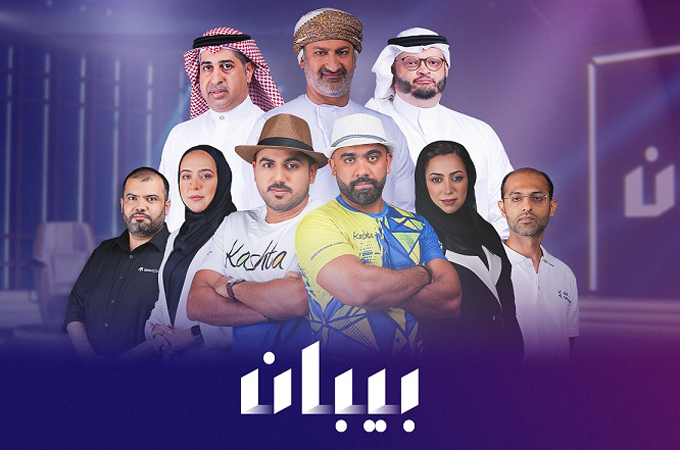 Entrepreneurship reality show ends Season 2 on March 8
MANAMA, March 7, 2023
Entrepreneurship-themed reality television show, Beban, produced by Hope Ventures, the investment arm of Hope Fund, will air the tenth and final episode of its second season on March 8 at 6 pm on Bahrain TV.
It will also be aired at 9:30 pm on Alrai TV and the region's biggest video-on-demand platform, Shahid.
Beban season 2 is the first television show in the MENA region to be 100% powered by renewable energy through Hope Ventures' partnership with The Oil and Gas Holding Company (nogaholding) and the Electricity and Water Authority (EWA).
The show was filmed in Al Areen Palace and Spa by Accor and is built around the premises of entrepreneurs pitching their businesses in front of a panel of regional investors for immediate investment and business opportunities.
Episode 10 featured four businesses from Bahrain and the UAE: 'Takalam', an online mental health consultations platform co-founded by Khawla Hammad and Enas Abu Shashieh; 'Kashta', organisers of new and entertaining programs, activities, and leisure trips for groups and individuals, co-founded by Ahmed Jamsheer and Adel Ebrahim; 'Tao Media', an all-in-one media platform that easily connects media specialists and clients, founded by Ali Albanna; and 'Tamarran', an online platform to manage and book gyms and sports activities, founded by Ali Zayer.
These four businesses pitched before a panel of regional investors comprising the General Manager of Flat6Labs KSA, Eyad Albayouk; CEO of Saudi-based C.STAR Venture Studio, Hatem Alghamdi; and CEO of Oman-based Venture One, Said Alrashdi. Aymen bin Tawfiq Almoayed, Chairman of Hope Fund, moderated the panel, also representing Hope Ventures' investments.
Khaled Alrayyes, Manager of Projects at Hope Ventures, shared: "After 10 weeks of airing, the journey of Beban season 2 has come to an end. The episode's panel of investors includes investors from Oman and Saudi Arabia, providing valuable insights from regional markets to diverse businesses from Bahrain and the UAE. We look forward for viewers to tune in to episode 10, and we anticipate that after the success this season has garnered, more entrepreneurs are encouraged to apply for season 3 as it will encompass even bigger doors of opportunity."
Interested entrepreneurs in registering for Beban season 3 can apply through the website hopefund.bh/beban, or reach out to Beban through
[email protected]
for any inquiries and support.
Beban Season 2 acknowledges its sponsors: nogaholding, Tamkeen Bahrain, Al Areen Palace & Spa by Accor, TRACCS, Beyon Money, Zain Bahrain, GMI, Ahli United Bank, Kuwait Finance House (Bahrain), The Benefit Company, Amakin, and Al Salam Bank for their affirmed commitment to empowering Bahraini entrepreneurs and accelerating their growth through investment, knowledge, and access to business opportunities.
Beban season 2 episodes can be stream on Shahid for free. – TradeArabia News Service