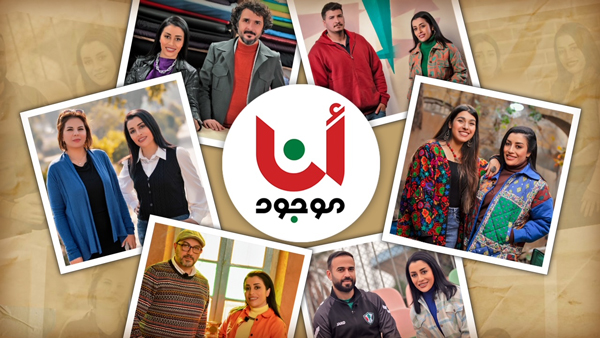 The show flyer
Al Aan TV announces launch of new show 'Ana Mawjoud'
BAGHDAD, March 15, 2023
Al Aan TV has announced the launch of its new show 'Ana Mawjoud', which offers a significant platform for young people to share their stories, experiences, and aspirations for a better future.
The show believes in the youth's vital role as today's pillars and tomorrow's creators in line with Al Aan TV's slogan, "The story belongs to everyone".
Hosted by media personality Maha Fattoum, the new show focuses on capturing the fighting spirit and perseverance among young men and women who choose to remain in their home countries - starting with Iraq, a country which is witnessing major hardships, security, political and social challenges.
Primary drivers
Ana Mawjoud aims to inspire youth in Arab countries, especially in Iraq, to remain hopeful and continue pushing forward as they are the primary drivers for positive change in their societies.
After months of planning and preparation, the new show with a youthful vibe and social spirit started broadcasting in Iraq. The crew is composed of local Iraqi talents, reflecting the philosophy of Ana Mawjoud that emphasises the significance of youth's role and creativity. By presenting the scene through their perspectives and lenses, the show will reveal never-before-seen details and facts. The upcoming episodes will be shown every Sunday at 11 pm.
Fattoum said: "The show's content is based on real-life experiences of youth who have made a conscious decision to stay in their home countries and strive towards their dreams. Some have even chosen to return home instead of acquiring another citizenship for a better life elsewhere. Their stories are a testament to their belief in their own capabilities and their determination to make a positive impact on their society. Ana Mawjoud serves as a source of hope for those who have lost their way and feel frustrated by their circumstances, offering a message of optimism for a brighter future."
Special place
Solange El Rassi, Head of PR and Corporate Communications of Al Aan TV, said: "We take great pleasure in announcing the launch of our new show, originating from Iraq - a country that holds a special place in our hearts. Our aim is to showcase the potential, dynamism, and inventiveness of Iraq's young people. We seek to provide a platform for their fears and challenges, as well as to highlight their successes, ambitions, and resilience in the face of the difficulties that have beset their nation.
"Ana Mawjoud is an extension of Al Aan TV's vision to stay attuned to the demands of its audience by presenting meaningful and innovative content that centres on youth and creates a positive impact. It also serves as a safe haven for young talents who are often overlooked in various fields, particularly in the media. We remain steadfast in our commitment to this media mission, which has made Al Aan TV one of the most popular channels among the youth."
Consisting of 10 episodes, each featuring a young talent with expertise in a particular field, Ana Mawjoud provides a glimpse into the guest's daily life, their lifestyle, and how they navigate challenges with a focus on the positives. The show celebrates the strength and ambition of each guest as they persevere through adversity.
Empowering youth
Ana Mawjoud is the latest addition to the programme cycle on Al Aan TV, which focuses on empowering the youth, providing them with the necessary tools to succeed in media and content creation.
The show offers a platform for young people to express their vision and share reality from their unique perspective. It aligns with the channel's commitment to broadcasting meaningful content and fostering engagement with Arab viewers, who are not just recipients of information but active partners in depicting reality.-- TradeArabia News Service