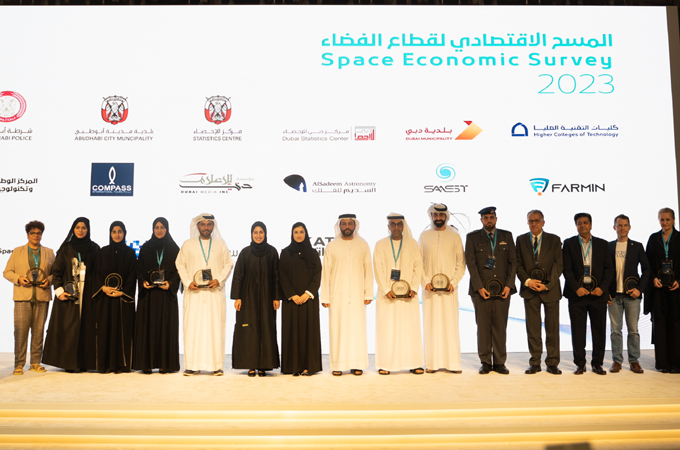 UAE space sector spending increases
ABU DHABI, September 19, 2023
The total spending in the UAE's space sector witnessed a 6.61% increase in 2021 compared to the previous year and government spending accounted for 55.7% of it, said the UAE's Space Economic Survey.
The UAE Space Agency, in partnership with the Federal Competitiveness and Statistics Centre, announced the findings of the 2021 Space Economic Survey. The survey aimed at measuring the performance of the national space sector, support its growth, and reinforce the UAE's position as a leading global hub for attracting talent, investment, and innovation.
In terms of research and development (R&D) spending, the survey showed a 14.8% increase, with R&D for space exploration accounting for 76.8% of the total. Emirati nationals comprise 38.5% of the space sector workforce. Additionally, the survey revealed that 59.2% of the employees in the UAE's space sector are Emirati youth.
The survey also demonstrated that 54.4% of the entities benefiting from the services and applications provided by space-related organisations were based in the UAE. The communications sector was the biggest beneficiary, followed by other sectors such as security, education, tourism, and entertainment. Furthermore, the survey revealed an 83.6% increase in scientific publications.
The survey was released in the presence of Sarah Al Amiri, Minister of State for Public Education and Advanced Technology and Chairperson of UAE Space Agency, and Hanan Al Ahli, Director of the Federal Competitiveness and Statistics Center.
The 2023 Space Economic Survey 2023 was also launched during the event to measure the space sector's contribution to the national economy, and provide a clear overview of this strategic and pioneering sector. The UAE Space Agency called on its strategic partners, entities, and companies operating in the national space sector to participate in this survey.
Al Amiri, said: "The UAE government is prioritising the space sector for the next 50 years, following the vision of our wise leadership. With innovative plans and initiatives, we aim to become one of the world's leading developers of space technologies. The national space projects we undertake reflect our commitment to promoting global efforts to develop the industry."
In addition to the significant developments and investments in the space sector, she highlighted the UAE's support for space small and medium-sized enterprises to boost the national space economy.
Salem Butti Salem Al Qubaisi, Director General of the UAE Space Agency, stated: "The 2021 Space Economic Survey offers a scientific base to build upon and develop the space sector, its national human resources, and investments. The government is committed to further developing the sector through various strategies and plans while building national organisations and human capital capabilities to establish the UAE as a leading global destination for talents, innovators, and investments."
Hanan Al Ahli, Director of the Federal Competitiveness and Statistics Center, said: "We are proud of our strategic partnership with the UAE Space Agency in implementing this national project, with unlimited support from national statistics centres and private sector institutions to make the survey a success. The survey provides important data on the UAE's space industry for decision makers, investors, researchers, and institutions working in the field of space. It supports decision-making, policies, development and sustainability of the space economy, and investments in the national knowledge-based industry." – TradeArabia News Service