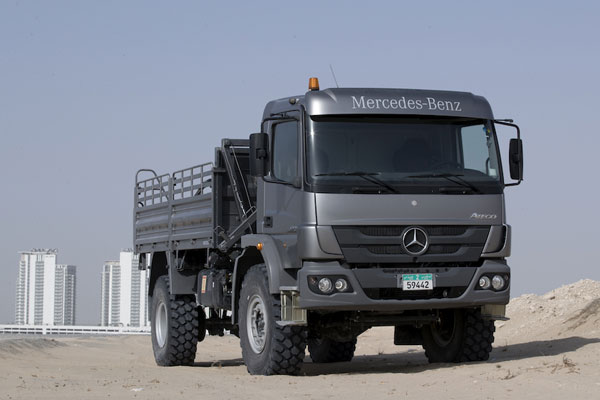 The Atego 1726 A 4x4
Mercedes-Benz Atego powered by Allison Transmission unveiled
DUBAI, October 26, 2021
Allison Transmission, a leading designer and manufacturer of vehicle propulsion solutions, in association with Mercedes-Benz Trucks, has unveiled the Mercedes-Benz Atego 4x4 powered by the Allison 3000 Series transmission.
The Atego 1726 A 4x4 was test driven by journalists and influencers on an off-road site. With a 6-cylinder in-line engine in Euro V emission norm, three mechanical differential locks, payload of 11,700 kg, the Atego is also powered by Allison's 3000 Series transmission. The Mercedes-Benz Atego is a fully-fledged member of the product portfolio offered by Mercedes-Benz Trucks in the Mena region. It epitomises value, efficiency and dedication.
Allison Transmission's 3000 Series transmission is designed for medium-duty commercial vehicles. Engineered to adapt and operate efficiently in a variety of applications, this series is available with close- or wide-ratio gearing and up to seven speeds.
An engine-driven Power Take-Off (PTO) is an option, as well as an integral output retarder that provides enhanced vehicle braking and reduces brake wear. Operation is further enhanced by Allison's advanced electronic controls, which also have prognostics capabilities.
"It is great to finally see the new development of the Allison 3000 Series built into our Atego 4x4 on the road, as this project was specifically developed for the needs of our customers in the Mena region," said Olaf Petersen, General Manager Mercedes-Benz and Fuso Trucks Sales.
"We see several special applications benefiting from this combination, from fire-fighting to off-road operations in our trucks. The fully automatic transmission with torque converter allows vehicle owners and drivers to work with high confidence. It relieves the driver from shifting activities, allowing them to fully concentrate on their driving. The risk for wrong shifting is out of question and uptime is increased offering a high benefit to the truck owner," said Petersen.
"Our longstanding global collaboration with Mercedes-Benz Trucks continues with this Ride & Drive Experience event in Dubai and we are pleased to add value to the Mercedes-Benz Trucks vehicle range. Through this partnership, we look forward to jointly providing a reliable and powerful solution to customers in the market. When you consider harsh and demanding environments like off-road terrain or heavy start-stop operations, you want maximum power and vehicle control. Fully automatic transmissions will increase driver comfort, provide ease of operation and optimal manoeuvrability," said Muhammad Ibrahim Khan, Allison Transmission Middle East Area Sales and OEMs Account Manager.
"Driving a 4x4 Mercedes-Benz Atego 4x4 equipped with an Allison 3000 Series transmission provides uninterrupted power to the wheels and makes it easy for a driver to focus on their job, keeping both hands on the wheel and eyes on the road," said Petersen.
Allison Transmission and Mercedes-Benz Trucks have maintained a strong partnership in the region. The companies plan to further serve the region with the same dedication and relentless efforts.-- TradeArabia News Service