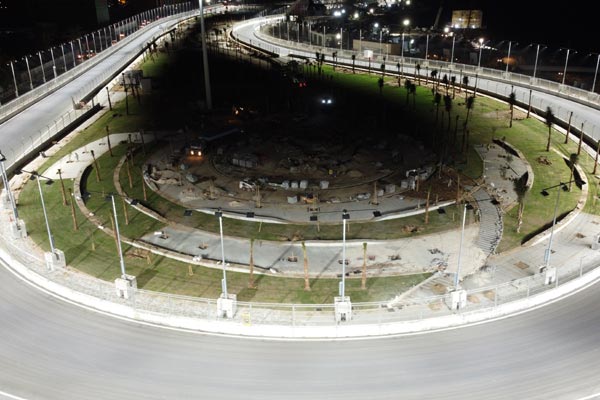 Jeddah racing to complete F1 circuit ahead of debut Saudi F1
ABU DHABI, November 21, 2021
World's fastest and longest circuit is due for completion in Saudi city of Jeddah within days, with construction of F1's newest track set to be finalised in record time.
With just two weeks to go until the inaugural Formula 1 STC Saudi Arabian Grand Prix 2021 makes its long-awaited debut, anticipation is beginning to rise for the moment the world's greatest drivers will take on the formidable challenge of the world's fastest and longest street track, the Jeddah Corniche Circuit, said the event organisers.
Set to host the penultimate round of this year's enthralling F1 season, the newest race on the calendar is readying itself to play host to a titanic title battle for the ages between seven-time world champion Lewis Hamilton and the young pretender to his crown, Max Verstappen.
Work on the track - which is officially termed a temporary facility - only began last April and is set to be completed in the coming days.
Located in Jeddah's stunning Corniche area on the Red Sea, approximately 12km north of the city centre, the kingdom's second-biggest city by population on the nation's West Coast is sure to become one of the most extraordinary settings for a F1 race, with a spectacular coastal backdrop framing the incredible racing action on track.
Developed in partnership by the Tilke Engineers and F1's own Motorsports Division, the circuit design has made strong use of the long, sweeping roads along the corniche area, utilising this feature and existing roads as much as possible along the narrow stretch of coastal land within the confines of the general infrastructure, resulting in one of the most unique and challenging circuits yet to feature in Formula 1.
Designed to deliver spectacular racing, the Jeddah Corniche Circuit is sure to generate huge excitement for F1 fans around the world and pose a stern examination of the drivers' strength and skill.
Rich in many exciting features, the circuit includes a record-equalling number of turns (27 in total: 16 left and 11 right), in addition to 3 potential high-speed DRS sections and a remarkable 12-degree banked corner at Turn 13 that is sure to become a favourite of drivers, broadcasters and ardent photographers alike.
According to Saudi officials, this remarkable achievement will add another record to its burgeoning list of early accomplishments: as no F1 circuit has ever been constructed in a shorter period.
This incredible feat is a testament to the hard work and dedication of the inaugural Saudi Grand Prix's devoted workforce, who have been striving tirelessly to deliver this stunning racetrack on time, they stated.
Add to this the fact the race will be staged under the lights at night, and everything is in place for a truly electrifying atmosphere in Jeddah when the pinnacle of motorsport finally arrives in Saudi Arabia.-TradeArabia News Service