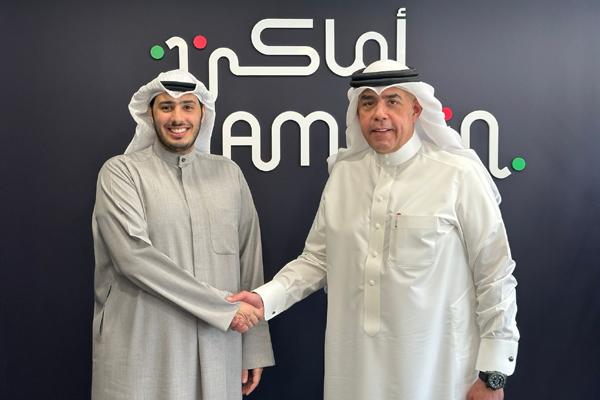 Amakin seals Bahrain smart parking deal with Kuwaiti group
MANAMA, February 26, 2023
Bahrain Car Parks Company (Amakin) said it has sealed a strategic partnership with PASS, a Kuwait-based company and the first Middle Eastern smart parking management system that uses automatic number-plate recognition (ANPR) technology designed to make parking more efficient and hassle free.
The agreement will enable Amakin to exchange knowledge and benefit from parking innovations developed by PASS.
As a result of this collaboration, PASS customers will have access to all Amakin locations, beginning with the Terminal in Adliya, utilizing the PASS mobile application to manage their parking and make payments in a seamless digital experience, said the company in a statement.
This comes as part of Amakin's strategy to expand its digital partnerships across the region, it added.
Amakin CEO Tariq Al Jowder said: "By establishing digital partnerships with leading ecosystem players, Amakin strives to meet its customers' expectations and objectives by delivering the most innovative services and up to date technology tied with our ambition to deliver an absolute parking experience."
"We are consistently striving to find new ways to enrich our clients' experiences and provide them with unrivaled mobility offerings as the region's leading mobility integrator," noted Al Jowder.
According to him, the inclusion of this service intends to extend Amakin's service portfolio, expand its user-friendly approach, and provide the local community with cutting-edge solutions within parking structures.
It follows in the footsteps of Amakin's multiple digital initiatives to provide a streamlined mobility journey for Bahrain's community, including its partnership with SADAD, the adoption of Apple Pay, and the adoption of BenefitPay to pay for parking.
"We are thrilled to collaborate with an innovative company with a record of success in implementing smart parking solutions. The inclusion of such technologies will broaden Amakin's offerings, as part of its drive to revolutionize the way people move and provide creative solutions for the future," he added.
Pass CEO Dhari AlZayed said: "We are proud to announce the start of a groundbreaking partnership with Amakin. We hope that through this partnership we can continue to further pioneer our software in the parking tech industry across the region, making user experiences more seamless."
PASS was established in 2018, operating in more than 20 parking facilities under their portfolio, with more than 1.5 million transactions in that time. It makes it easy to enter and exit parking lots by employing ANPR technology.
"Through these types of partnerships we aim to keep growing and bringing our cutting edge technology to as many parkers in the region," he stated.
PASS will soon be available in The Terminal in Adliya, with many other sites set to be added soon, he added.-TradeArabia News Service