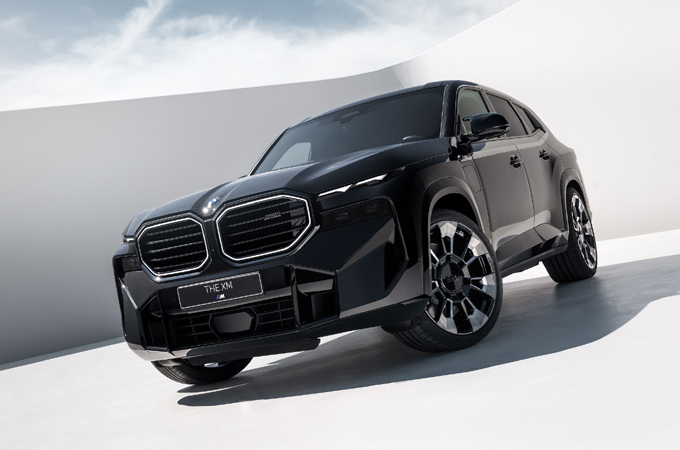 BMW XM drives into Middle East for the first time
DUBAI, March 1, 2023
BMW Group Middle East has launched the BMW XM for the first time in the region, in partnership with its official importers across the Middle East.
Revealed at an event in Dubai, the XM represents a fresh interpretation of the Sports Activity Vehicle (SAV) created out of the ground-breaking fusion of the high-performance BMW M and progressive plug-in hybrid technology.
The first BMW M original since the BMW M1, the all-new BMW XM is the automotive group's latest offering in celebration of BMW M's 50th anniversary, featuring the newly developed M Hybrid drive system, an extravagant design and progressive luxury ambience.
Ideally suited for the terrain and the driving conditions in the Gulf and the Middle East, the BMW XM comes with 4WD Sand mode, conceived specifically for navigating terrain on and off the road.
Dr Hamid Haqparwar, Managing Director BMW Group Middle East, said: "We are thrilled to launch the all-new BMW XM here in region. This model is truly made for the Middle East, with the all-new M xDrive system ideal for navigating this region's terrains. Our clients have been requesting a luxury M Sports Activity Vehicle and we've answered them with the BMW XM. Since announcing the XM last year, we've seen incredible interest in the region and are expecting the model to be highly successful in the Middle East. We are confident that the BMW XM will open up the M experience to new target groups in the high-performance segment."
The M Hybrid drive system in the BMW XM delivers an overall output of 653 hp and is underpinned by a high-revving V8 engine with cutting-edge M TwinPower Turbo technology. The 4.4-litre engine is assisted by an electric motor integrated into the eight-speed M Steptronic transmission, delivering a maximum overall torque of 800 Nm.
The BMW XM sprints from 0 to 100 km/h in 4.3 seconds, accompanied by an energy-charged soundtrack amplified by hexagonal dual tailpipes arranged one above the other for the first time on a BMW M model. Uniquely, the BMW IconicSounds Electric developed in a collaboration with Hollywood music legend Hans Zimmer creates a suitable backing track for the electric motor's power delivery.
While the front pays homage to BMW's luxury heritage with the "Iconic Glow" illuminated kidney grille, the highly distinctive shape of the XM is complemented by 23" light alloy wheels and an exclusive accent band in Night Gold. Standard interior specification includes M multifunction seats and knee pads, along with a generous feeling of space and extravagant design that transform the rear of the BMW XM into an exclusive M Lounge. – TradeArabia News Service