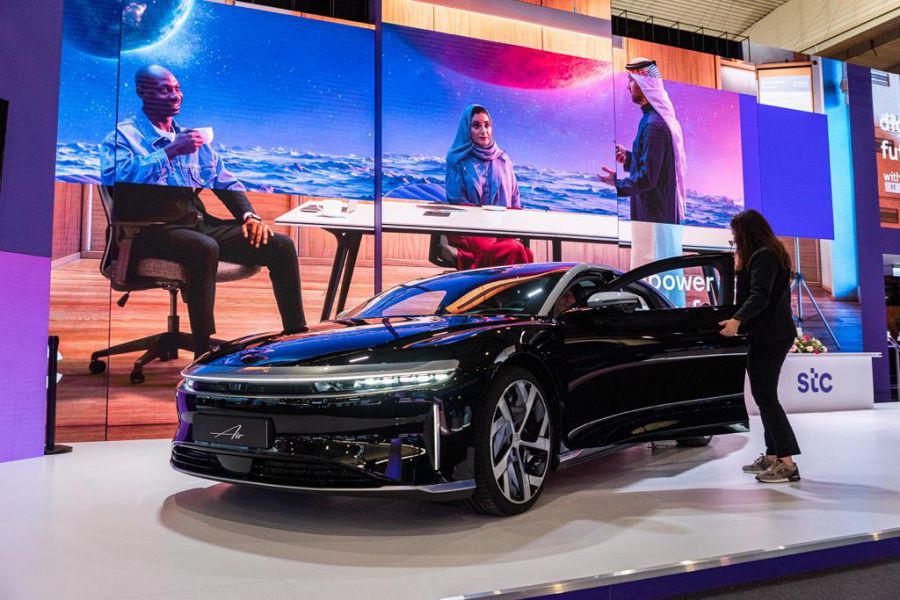 stc Group seals partnership with US e-vehicle company Lucid
BARCELONA, March 2, 2023
Leading Saudi digital enabler stc Group has announced a startegic partnership with top US-based electric vehicle company Lucid Group under which it will provide direct-to-consumer connectivity services for Lucid customers in the kingdom.
Through this collaboration, the companies will deliver exceptional connectivity that enables in-car infotainment and over-the-air functionality to enhance the driving experience for Lucid customers.
Lucid is setting up its AMP-2, a world-class production factory in Saudi Arabia with the Phase One work already under way.
Al Bawani, a leading general contracting firm, said it had started work on the Lucid's first international production plant on a 1.3-million-sq-m campus plot at the King Abdullah Economic City (KAEC). The new plant targets 155,000 vehicles per year.
The company's first car, Lucid Air, is a state-of-the-art luxury sedan with a California-inspired design that features luxurious full-size interior space in a mid-size exterior footprint.
"We are excited to collaborate with Lucid Group to create a seamless connectivity experience for Lucid Air customers in Saudi Arabia," said Saud Alsheraihi, VP of Business Products & Solutions at stc Group.
"This partnership allows us to continue to push the boundaries of innovation and provide the highest quality products and services to our customers," he noted.
As a leading digital enabler in the region, stc said it is committed to providing innovative solutions that meet the evolving needs of the customers.
The partnership with Lucid allows stc to simplify the delivery and management of advanced over-the-air (OTA) in-car services and provides a foundation for innovating and meeting the changing needs of customers as new services evolve.
According to stc, this new connectivity service will enable Lucid customers in KSA to enjoy enhanced vehicle performance and functionality, including continuous improvements to vehicle control and infotainment systems via OTA updates, remote vehicle diagnostics, controls, and serviceability, music streaming through in-vehicle apps, and navigation.
Faisal Sultan, Vice President and Managing Director, Middle East, Lucid, said: "Through our collaboration with stc Group, we aim to create a seamless connectivity experience to make Lucid vehicles more enjoyable, advanced, and convenient for our customers."
"We are extremely excited to bring these features to our customers in Saudi Arabia," he added.-TradeArabia News Service