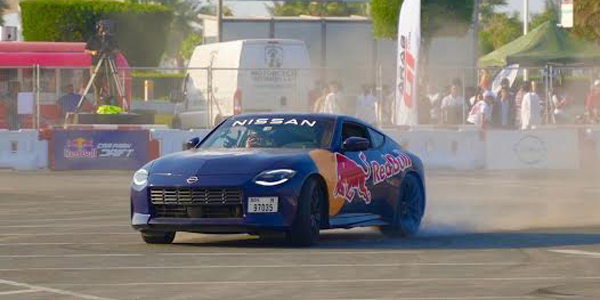 The Nissan Z
Nissan Z showcased at the Red Bull Car Park Drift
ABU DHABI, March 9, 2023
Al Masaood Automobiles has showcased the all-new Nissan Z at the pulsating Red Bull Car Park Drift event, which was held at the Nation Towers, Abu Dhabi Corniche.
Owing to its contemporary and performance-driven features, Nissan Z appeals to car enthusiasts who constantly seek driving thrills and adrenaline-fuelled rushes. The event served as an ideal platform to showcase the sports car, which is equipped with modern features and innovative technologies, as it showcased the best aspects of drifting, motor power, driving precision, and speed through breath-catching live performances.
The championship also gathered motorsport enthusiasts to relish in impressive performances of several drift legends as they pulled off sequences of stunts on the track.
Ideal opportunity
Bachir Gemayel, Sales and Marketing Director, Al Masaood Automobiles said: "The event served as an ideal opportunity for thrill seekers to witness some incredible and passionate drifting veterans put on breath-taking performances. Nissan Z, dubbed as the 'legendary sportscar' was a perfect fit to be displayed at this event owing to its multitude of innovative technologies. It brings together a blend of the finest power, grip, speed, connectivity, and sophistication to driving experiences."
The stunt-packed drifting show, the Red Bull Car Park Drift kicked off on March 4, 2023, commencing a new season of the most renowned championship in its field, with thousands of spectators anticipating spectacular performances packed with excitement and adventure.
Lebanon hosted the first ever Red Bull Car Park Drift event in 2008 at the City Mall car park making it possible for all underground drifters to put their skills to test, and placed the spotlight on rally champion Abdo Feghali, making him a drifting legend. In addition, the first-ever crowned King of Drift was Michel Feghali.
The championship offers the ideal opportunity for drift enthusiasts to showcase their abilities in a fun and safe setting that follows safety regulations.-- TradeArabia News Service