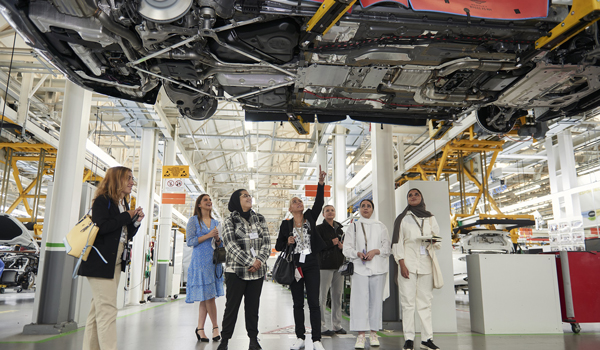 Female participation at Bentley
Bentley empowers future female leaders in Saudi Arabia
JEDDAH, March 9, 2023
Bentley Motors has launched the second edition of its Extraordinary Women initiative, a global mentoring programme aimed at inspiring and nurturing the next generation of female leaders.
The programme is specifically designed for female students pursuing careers in engineering, design, technology, and business. In line with Saudi Vision 2030, the programme is expanding to Saudi Arabia for the first time, with the aim of encouraging women to consider careers in STEM and the automotive industry.
Ahead of International Women's Day, Bentley Motors hosted a virtual launch event on March 6, hosted by Karen Lange, Bentley's Member of the Board for Human Resources, in order to formally open the application process to students from the partner universities in the UK and in KSA, and provide them with more information about the initiative and how to apply.
Dar Al-Hekma University
Bentley will now work with Dar Al-Hekma University to identify the students who will be selected to take part in the programme. Successful applicants will enjoy one-to-one mentoring with experienced Bentley staff and the extraordinary Pioneers, ahead of attending a one-week programme at Bentley headquarters in Crewe this June, where they will work with Bentley teams on live projects to put the learnings from their mentoring experience to good use.
Inspiring pioneers to make a difference
Eng Mishaal Ashemimry, the Vice President of the International Astronautical Federation and the first female aerospace engineer in the GCC, said: "Entering a field where women have traditionally been underrepresented is no easy task. As a mentor myself, I'm constantly reminded that it takes unwavering courage, persistence, and self-belief to break through barriers and challenge stereotypes. Although the journey may be challenging, the destination can be incredibly worthwhile."
Noha Zagzoug said: "As a participant of Bentley's Extraordinary Women Programme, I'm thrilled to be involved in a programme that aligns with Saudi Vision 2030's mission of promoting gender diversity and empowering women in the workforce. With the opportunity to mentor students as part of the programme, I'm excited to be able to inspire and support the next generation of female leaders."
Nadine Attar, CEO and Creative Director of Nadine Jewellery, said: "As a Saudi female entrepreneur, it is important for me to share my commercial experience in the luxury field with younger women that are seeking their own path. Empowering them makes me feel empowered; and their success is mine as we are all part of making this country greater. Participating in Bentley's Extraordinary Women programme is a privilege where I am able to pass on learned lessons and help guide Saudi women in starting the first milestone towards their dreams. I hope my contribution adds to their growth and success."
Extending the global concept regionally
Member of the Board for Human Resources, Dr Karen Lange, explained: "Pursuing a constructive and mutually beneficial diversity policy is an essential part of our Beyond100 strategy, and in particular our goal to achieve 30 per cent diverse management by 2025. Our bespoke Extraordinary Women programme is a key component of this, and one that we are proud to be implementing across an increasing number of countries.
"Mentoring remains an important development tool at Bentley. Witnessing the success of the first year of the programme, and the positive feedback from the young women who participated in it, was rewarding for all involved. We are excited for what is to come and look forward to welcoming more talented young women on-board to help them develop their knowledge of careers in STEM and automotive."
Dr Eiman Kurdi, Acting Provost at Dar Al Hekma, said: "At Dar al Hekma University we are committed to nurturing the talents and potential of young women across the country. As a pioneering university with a vision for excellence and innovation, we strive to provide our students with the knowledge, skills, and experiences they need to succeed in today's rapidly changing world. We believe this initiative will greatly benefit our students' career prospects, and we look forward to working with Bentley Motors to help support the development of the next generation of extraordinary women."-- TradeArabia News Service