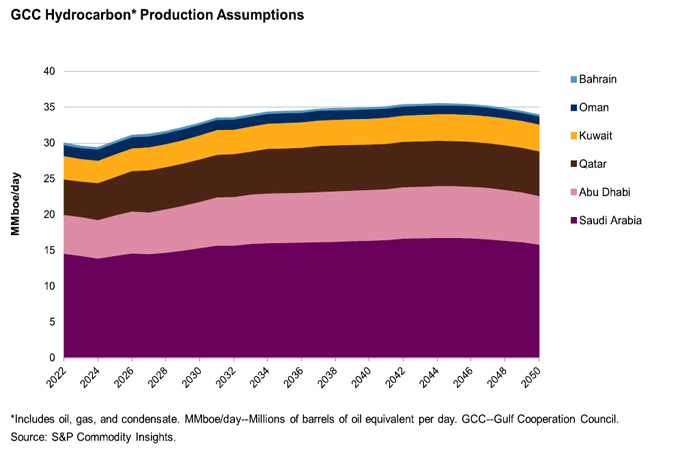 GCC states can manage energy transition, says report
DUBAI, March 13, 2023
The Gulf Cooperation Council (GCC) economies have time to manage the global transition away from hydrocarbons because the competitive advantage afforded by their low cost of production should delay peak demand for their oil compared to other producers, said S&P Global Ratings.
National oil companies (NOCs) in the region are gradually aligning their strategies with national sustainability targets and net-zero targets, according to a report, "National Oil Companies In GCC Can Absorb The Energy Transition Impact For Now," published on Monday.
The report tested the effect of the energy transition on NOCs' credit quality with a stressed hypothetical scenario that exaggerated Gulf NOCs' incremental required capital spending.
It found that NOC's (including rated, and not rated but publicly listed entities) credit metrics remained resilient, with debt to EBITDA below 1x on average until at least 2025.
Rawan Oueidat, S&P Global Ratings credit analyst, said: "NOCs from the GCC will likely adapt to the transition more gradually than their global listed peers. We think their generally robust financial positions will help them cope with higher spending, if needed."
A second report, "Energy Transition: Competitive Advantages Shield GCC Sovereigns," focused on the effects of changing hydrocarbon prices on GCC economies, using simplified scenarios to test sovereign credit quality.
The results suggest that GCC sovereigns will prove resilient over at least the next decade, due to low production costs and the potential to increase output, which will make the region an attractive supplier, even as oil's share of the global energy mix declines.
Of the six GCC sovereigns included in the scenario, UAE, Qatar, and Saudi Arabia's key ratios indicated greater stability through both price scenarios, while Kuwait, Oman, and Bahrain exhibited more volatility. –TradeArabia News Service