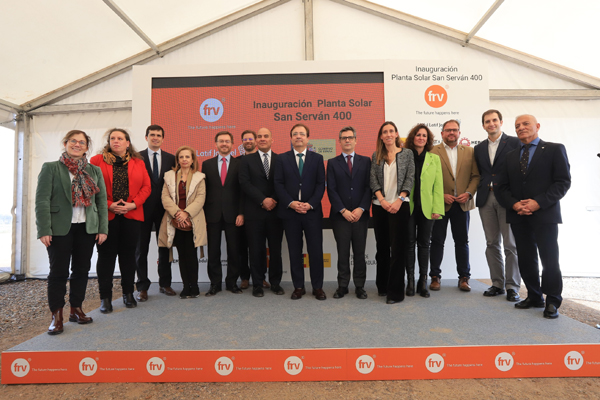 Officials at the commissioning
FRV to power over 100,000 homes in Spain with clean energy
MADRID, March 15, 2023
Fotowatio Renewable Ventures (FRV), a leading developer of sustainable energy solutions and part of Saudi-based Abdul Latif Jameel Energy, has commissioned a solar farm in Spain, the $94 million San Serván 400. The project consists of three 50 MWdc projects, for a total of 150 MWdc.
The solar farm will provide over 100,000 homes with clean energy in the Extremadura region, in the west of Spain. It will produce around 300 gigawatt hours (GWh) of clean energy per year, helping avoid the emissions of 223,000 tonnes of carbon dioxide (CO2) annually. The project will contribute to Spain's Long-Term Decarbonisation Strategy to achieve greenhouse gas emissions neutrality by 2050.
A ceremony was held to inaugurate the solar farm and was attended by Fady Jameel, Deputy Chairman and Vice Chairman of Abdul Latif Jameel, Fernando Salinas, Managing Director of FRV Iberia, the Minister of the Presidency, Félix Bolaños, and the President of the Regional Government of Extremadura, Guillermo Fernández-Vara among other figures from the central, regional and local administrations.
Decarbonisation
Jameel said: "The commissioning of this new solar farm in Spain reflects our efforts to support the country in its decarbonisation process. It is a testament to our belief in sustainable and renewable energy as a strategic pillar that will support and drive economic, social, and environmental advancements for future generations."
Salinas commented: "With the start-up of San Serván 400 we continue to strengthen our presence in Extremadura, Spain, which remains a priority location where we have great prospects for the future. In addition, the generation of clean, renewable energy from this plant will allow us to continue contributing to the decarbonisation of our energy sector and others, and to their independence from fossil fuel sources."
Its construction has been carried out through a financing agreement with BBVA and Natixis for an amount of $94 million under the project finance modality.
Young Talented Leaders
San Serván 400 is part of the "Young Talented Leaders" programme, a joint educational initiative between FRV and the Instituto de Empresa Foundation, which awards scholarships to young students who demonstrate academic merit and an entrepreneurial spirit. The scholarship covers all education and training expenses, including tuition, accommodation, academic materials, travel and living expenses in during the four years of the Bachelor's Degree at IE University in Spain.
San Serván 400 is FRV's third photovoltaic project in operation in Extremadura, Spain, following the commissioning of San Serván 220 (138 MWdc) in 2022 and La Solanilla (50 MWdc) in 2020. Additionally, in September 2022, FRV announced the construction of the 123 MWdc Carmonita Norte PV complex, also located in Extremadura.-- TradeArabia News Service