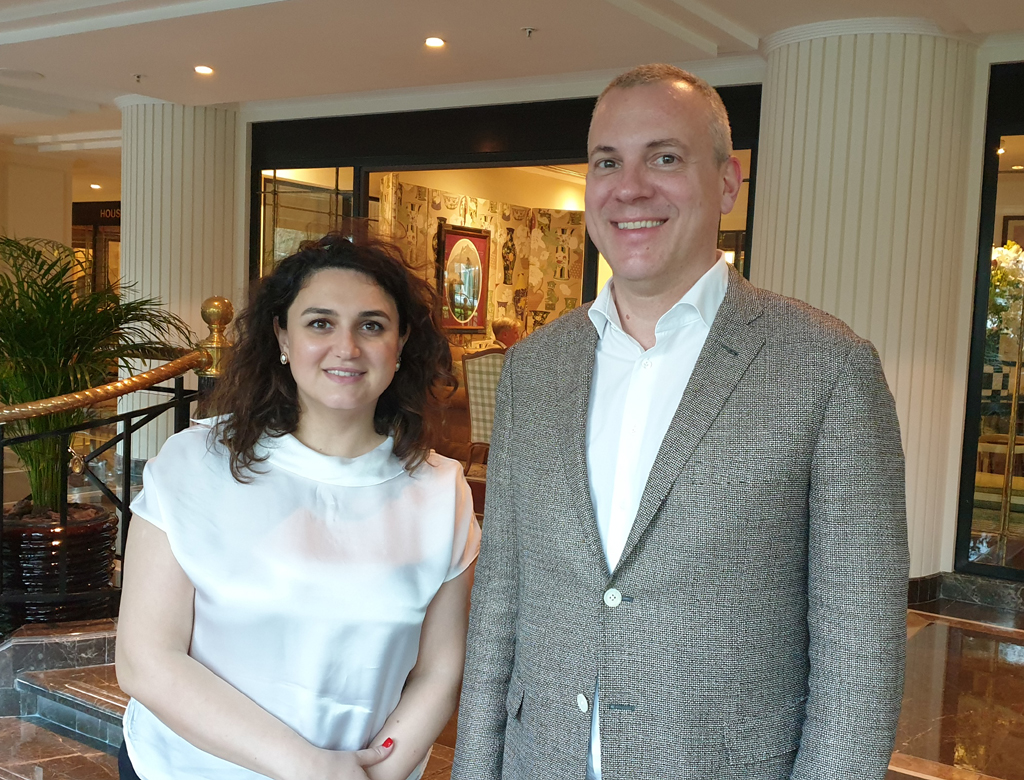 Florian Sengstschmid (right) and Vafa Safarli-Abdullazada
Azerbaijan 'an ideal destination for Gulf tourists'
MANAMA, March 9, 2023
Azerbaijan is an ideal year-round destination for tourists from the Gulf who are seeking newer experiences, says the country's tourism chief.
Speaking exclusively to TradeArabia's Sree Bhat during his recent Bahrain visit, Florian Sengstschmid, the CEO of the Azerbaijan Tourism Board (ATB) and the Chief Advisor of the State Tourism Agency of Azerbaijan, said Azerbaijain, which is just a short flight away for Gulf travellers, is a 'home away from home' destination, offering visa on arrival, high quality of products and experiences at competitive prices and amazing culinary delights.
Sengstschmid was accompanied by Vafa Safarli-Abdullazada, the Head of Communications at ATB.
Excerpts from the interview:

How is tourism recovery in Azerbaijan?
The recovery is moving on the right track. In 2019, we had about 3.2 million tourist arrivals to Azerbaijan and the figure was 1.6 million in 2022. So, we have already reached about 50% of the pre-pandemic level and we see the recovery continuing. We expect to reach pre-pandemic figures by 2024.
The biggest and fastest recovery has been from the GCC, which has reached pre-pandemic levels and flight connectivity is largely restored.
In general, we are 50% behind 2019 figures mainly because of Europe and Asia. Europeans are a bit more careful travelling to the region because of the geopolitics. Despite this, there are new flight connections from Baku to European cities, namely Paris, Rome, Barcelona and Vienna. From Asia, Chinese tourists are still missing and we expect this market to pick up later in the year.
How important is the Middle East market for you?
The Middle East is most important for us since it is the number one source market. It is also growing in new directions, including flights from new destinations, interest in new regions and a pronounced desire for winter travel. For example, Saudi carrier flynas, which normally operates flights to Baku till October, continued its schedules during winter, bringing in tourists to enjoy our cool offerings.
The largest market for us after the Middle East is India, which is picking up as well. However, the bottleneck in India is, we don't have enough flight capacity and we are working to attract Indian carriers to Azerbaijan.
What are your key markets in the GCC?
For now, the biggest source markets in the GCC are Saudi Arabia and the UAE, followed by Kuwait and Oman and then Bahrain.
Numbers from Saudi Arabia and the UAE have already almost reached pre-pandemic levels and we have also made good recovery from Kuwait.
Looking at Bahrain specifically, our best year was 2018 when we recorded 12,000 arrivals from the kingdom on the back of new air connectivity. It went down to 8,000 in 2019 and in 2022, it was around 3,600 arrivals. We want to understand what can be done to strengthen the ties between Azerbaijani and Bahraini tour operators and travel industry and bring back the numbers from Bahrain. In this regard, we are planning a travel trade workshop and an event in Bahrain later in the year.
What makes Azerbaijan a great destination for Gulf travellers?
Azerbaijan has many ingredients that make it an ideal destination for Gulf travellers – ranging from food, activities and experiences, culture and heritage and entertainment. Actually, it can be called a 'home away from home with a difference' for people from the Gulf.
* Azerbaijan is easy to reach (just a short distance away), offers visa on arrival for residents of most Gulf states and is affordable for luxury and family-friendly with a nice climate.
* Baku, the capital, is a bustling city with a lot of family activities and attractions; we have the Deniz mall with the largest entertainment indoor complex in the Caucasus, and safari parks.
* We offer a great escape to nature. Our mountain resorts are very attractive, especially for travellers from the region. We see more and more people enjoying adventure snow during winter. We have developed activities for non-skiers too to enjoy in the mountains - both in winter and summer -- including the longest mountain roller coaster ride. There are also many wellness and spa facilities and opportunities for passive activities. There are also beautiful wineries dotting across the country, which offer nice experiences.
* Azerbaijan cuisine connects travellers with culture, taste and warm hospitality. The food is familiar to the Middle Eastern people, but has a distinctive national flair; it offers a diverse range of healthy dishes combining meat, fish, vegetables, rice, herbs and savory spices. All food in the country is halal and there are several vegetarian options too.
* On the historic, heritage and architecture side, Baku and its surroundings have many sites that provide a glimpse into the history of the region, including the Inner City of Baku, the Maiden Tower, Shirvanshah Palace and the Ateshgah fire temple, just to name a few.
What is Azerbaijan's offering to the luxury tourism market?
There are many global luxury hotel brands in the country with the latest to join the group being the Ritz Carlton in Baku. The prices are very competitive. Azerbaijan has a number of local and international boutiques and shopping is a big attraction. Our silks, carpets, jewellery and glass and copper artefacts are a shopper's delight.
Yachting in the Caspian Sea is a luxurious pastime and soon we will be introducing hot-air ballooning too.
On the wellness front, we have the Chenot luxury retreat and a number of hot springs. A special mention must be made about the oil bath at Naftalan in the foothills of the Lesser Caucasus Mountains. It is quite popular for its health-promoting properties. There are about 20 medical wellness centres, including some five-star facilities.
What are the key trends you see post-pandemic?
Post-pandemic, we see that people prefer to stay longer and are keen to discover more authentic tourism products. There is a lot of demand for nature and outdoor experiences. That's great for us; we have a lot to offer in terms of nature experiences, slow food travel, bird watching, butterfly watching, hiking, etc. We also see that there are new markets coming in, driven by new flight connections, including Vienna (Austria) and Warsaw (Poland). And because of the geopolitics, we see more Russians travelling to and through Azerbaijan.
In essence, the new reality is a bit of fresh products and new markets. The message for the market is: we can't get too comfortable with what we did before; we must rethink and start from almost zero to take our journey forward. It's not easy, because there are global and regional challenges and also issues related to workforce migration which has completely changed the industry.
Many people don't want to work in the industry any more. We are discussing with industry colleagues all over the world (and this is the number one topic in the industry) on strategies to have qualified and committed human resources who see a future in the industry. We need to ensure that people find it worthwhile to stay in the sector, making sure right salaries are paid and offering great career paths.
In your opinion, how much has tourism changed after the pandemic?
On a global scale, I think it is a complete reset. The words we discussed during the Covid - such as sustainability and responsible tourism - are now being put into action. It is our task to make sure that our planet and destinations are liveable for future generations of both travellers and locals.
In Azerbaijan, we have our sustainable tourism strategy that focuses on various topics, from hotels to improving livelihoods of people in remote villages. We sync with the Slow Food Programme and work on improving our culinary and gastro experiences to make sure that micro scale producers are put on the map. We also work with the ornithology society to make sure that the bird variety is not disturbed by the infrastructure work.
It's now our task to make sure that tourism's future and development is responsible. - TradeArabia News Service