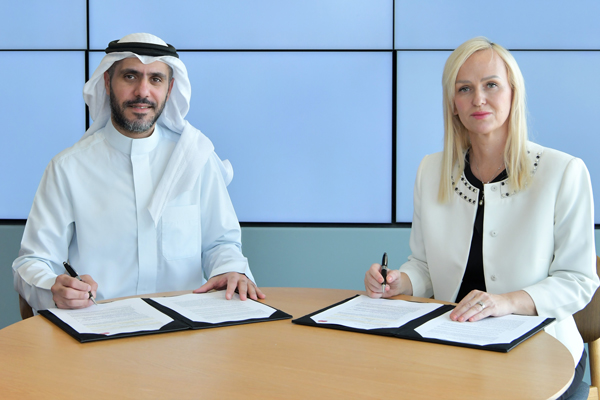 Signing the partnership
Mastercard and EazyPay to transform online checkout experience
MANAMA, January 23, 2023
Mastercard has partnered with Bahrain's leading fintech and payment service provider Eazy Financial Services (EazyPay) to transform online checkout experience through Mastercard Payment Gateway Services (MPGS).
MPGS is a trusted platform that provides financial institutions with a white-label technology for payment processing and fraud prevention. As one of the largest gateways in the region that is utilised by many players in the financial ecosystem, it enables its partners to accept a wide range of digital transactions easily and securely, including all leading card brands and other non-card payment methods.
"Mastercard works to co-create a new reality for the digital payments ecosystem," said Maria Medvedeva, Country Business Manager, Saudi Arabia and Bahrain, Mastercard. "We are expanding the reach of our innovative MPGS technology in Bahrain, in collaboration with EazyPay, to support the GCC nation's rapidly growing e-commerce industry and ambitious digital transformation strategy. The move strengthens Mastercard's presence and expands digital payment acceptance in the country."
Adding value
"Our aim is to add value, and Mastercard's seamless MPGS technology solution gives us the opportunity to do that. We are united in our vision to make digital and e-commerce payments more seamless, smart, and swift, creating pathways to progress in new ways," said Nayef Tawfeeq Al Alawi, Founder and CEO of Eazy Financial Services.
In August 2022, Eazy made the Forbes list of top 25 fintech companies in the Middle East. In 2021, the company launched its EazyPay POS terminals, which allowed local merchants and SMEs to accept contactless payments. With 900+ merchants and 5,692 POS terminals across Bahrain, Eazy Financial helped to process transactions worth a total of $502 million in 2021 and plans to double this amount by 2023.
In addition to its growth-focused digital expertise, Mastercard has the global reach, network of partners, and local knowledge to collaborate with fintech companies at every stage of growth through the Mastercard Accelerate portfolio. The technology company partners with a variety of stakeholders, including fintech innovators, to connect 1 billion people to the digital economy by 2025, including 50 million small businesses with a direct focus on 25 million women entrepreneurs.-- TradeArabia News Service