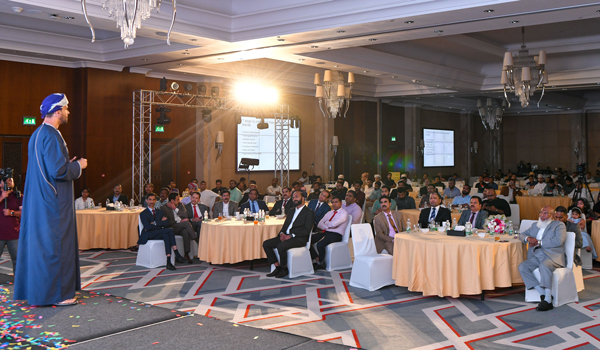 The Business Conclave
Oman's Shahi Foods celebrates 37th anniversary
MUSCAT, February 26, 2023
Shahi Foods and Spices, Oman's leading FMCG brand that supplies spices, pulses, coffee, nuts, dry-fruits and cereals company, has hosted a business conclave (Biz-Con'23) to celebrate its 37 years in business in the sultanate.
Held at the Sheraton Oman Hotel in Muscat, the event was attended by the company's associates, retail partners, special invitees, management and executives.
Showcasing the brand's journey, its philosophy, history and major achievements, the conference was hosted by popular emcee Salim Al Rahbi, and witnessed the announcement of the names of the Mega Raffle Draw winners.
Motivational address
The event also saw the company's core team and sales team take centre-stage, as part of its 'Star Assets' programme. The highlight of the evening was a special motivational address by ace keynote speaker, technology and marcom consultant, Tariq Al Barwani, who kept the audience captivated throughout his segment. The evening's proceedings culminated with a performance by renowned violinist Lanny Alarcon.
In his welcome speech to the delegates and other attendees, Mohammed Ashraf Mulamparambil, Founder, Managing Director, and driving force behind the brand, laid emphasis on the brand's legacy, emphasising that the company's retail partners, employees and teams are the biggest reason for its success.
Shedding light on Shahi's modern manufacturing facility with cutting edge technology in production and packaging, Mulamparambil emphasised that it is their state-of-art infrastructure that helps maintain the purity and freshness of their products. He also highlighted the high-quality stringent processes adapted in procurement of raw material, packaging, quality control and delivery of the spices to the retailers, that have helped make the brand the preferred choice of millions of households for over three decades in Oman and beyond.
Indispnsable companion
The Executive Director, Abdul Rahman Mohammed Ashraf Mulamparambil shared the brand's aim to become an indispensable companion of every household in the sultanate.
Founded in 1986, Shahi Foods & Spices offers over 200 varieties of food products in the categories of Pulses, Lentils, Spices, Nuts, Dry Fruits and Arabic Coffee. The brand's uncompromising commitment to quality, wide range of products and penchant for innovation makes Shahi the most trusted household name in the sultanate.
The company is the only brand in the country with a fully-equipped quality control facility, and procures raw materials from several countries of origin, which it then processes at its own manufacturing unit. Known for setting benchmarks for quality, safety and taste in the Sultanate and beyond, Shahi has its flagship buy and mill food mart – Mashhoor in Sohar. The company also owns the country's largest coffee processing facility and produces the best kahwa blends in the region.-- TradeArabia News Service