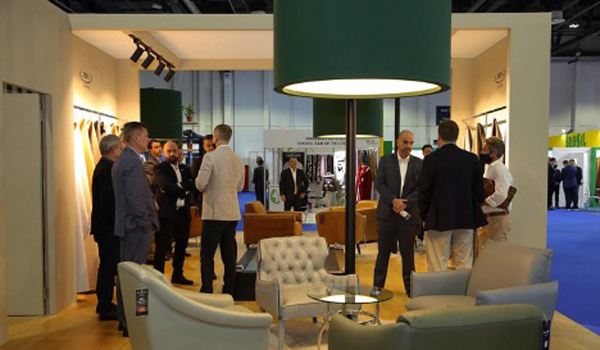 Officials after the announcement
World's leading leather trade fair APLF returns to the UAE
DUBAI, March 2, 2023
APLF, one of the largest leather tradeshows re- will be held at the Dubai World Trade Centre (DWTC), Sheikh Saeed Halls, from March 13 to 15, 2023.
This one-of-a-kind event, recognised by the leather industry as the most important trade fair, will cover a gross exhibition area of 16,000 sq m and will host 14 national pavilions from countries globally including Brazil, China, Egypt, France, India, Italy, Pakistan, South Africa, Türkiye, and Vietnam.
David Bondi, Senior Vice President, Informa Markets Asia said: "It is a pleasure to host our annual leather trade fair once again in Dubai. Following the success of last year's exhibition, it was natural to hold the fair in UAE. Being the hub for businesses, Dubai is easily accessible from the American, European as well as the Asian subcontinents and will be a contributing factor to the international nature of the trade show. APLF has continually dedicated years to organising leather and fashion trade shows, attracting 60,000 participants annually and providing suitable venues for top-notch businesses, manufacturers, tanners, buyers, designers & suppliers. We look forward to a successful edition again this year," he added.
300 plus exhibitors
The exhibition will bring to the emirate over 300 plus exhibitors as well as the participation of regional associations from China
The fair covers the whole supply chain of the leather making industry and offers hundreds of finished leathers for all applications possible, from footwear and leather goods to garments and upholstery, making APLF Leather a unique sourcing event in the Middle East and North African region (Mena).
APLF's sister fair, Fashion Access, will be held concurrently at the DWTC and is also supported by national and regional associations from Botswana, China, India, Pakistan, South Africa and Vietnam, A wide selection of footwear and leather goods will be on display highlighting the future trends and colors that will populate the fashion scene in upcoming seasons.
Notably this year sees the third edition of the Global Footwear Executive Summit (GFES) and seminars organised by Leather Naturally. A total of four workshops will take place at this year's edition of APLF, which include two on leather foundation and two on footwear design.-- TradeArabia News Service