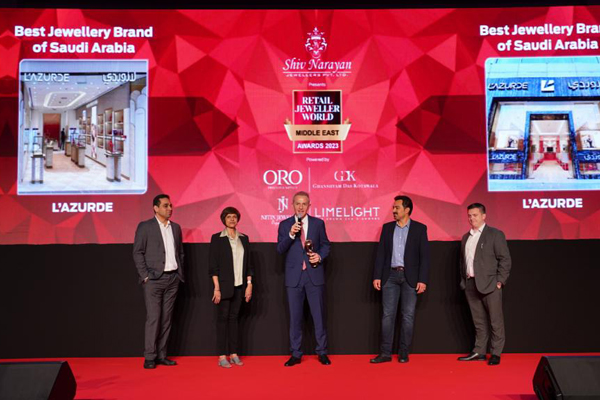 Company officials with the award
Dubai International Jewellery Forum awards L'azurde
RIYADH, March 5, 2023
L'azurde for Jewellery, the most prominent brand in designing, manufacturing and distributing jewellery in Saudi Arabia and the Middle East, has won the title of the best retail jewellery brand in Saudi Arabia for the year 2022.
The company, which had excelled among hundreds of participating entities, was presented the award during awards distribution ceremony at Dubai International Jewellery Forum, which was recently held at the Hyatt Regency Hotel in Dubai.
The award reflects the constant ambition of L'azurde to improve the concept of the world of jewellery and fashion at the global and local levels, as the company was able to implement a solid strategic plan, leading to the launch of the new brands "Miss L" and latest collection "L'azurde Instyle" to keep pace with the needs and requirements of Arab women in obtaining modern jewellery at affordable prices.
On the sidelines of the ceremony, the CEO of L'azurde Company for Jewellery, Selim Chidiac, thanked in a speech, the organisers of the forum for their efforts to celebrate the world of jewellery in the Arab world and the Middle East and expressed his happiness to stand side by side with the most prominent sector's leaders in the region, in which the forum reviewed the current state of the gold and jewellery industry and the best ways in which jewellery retailers should develop their businesses to achieve high and sustainable profit margins.-- TradeArabia News Service