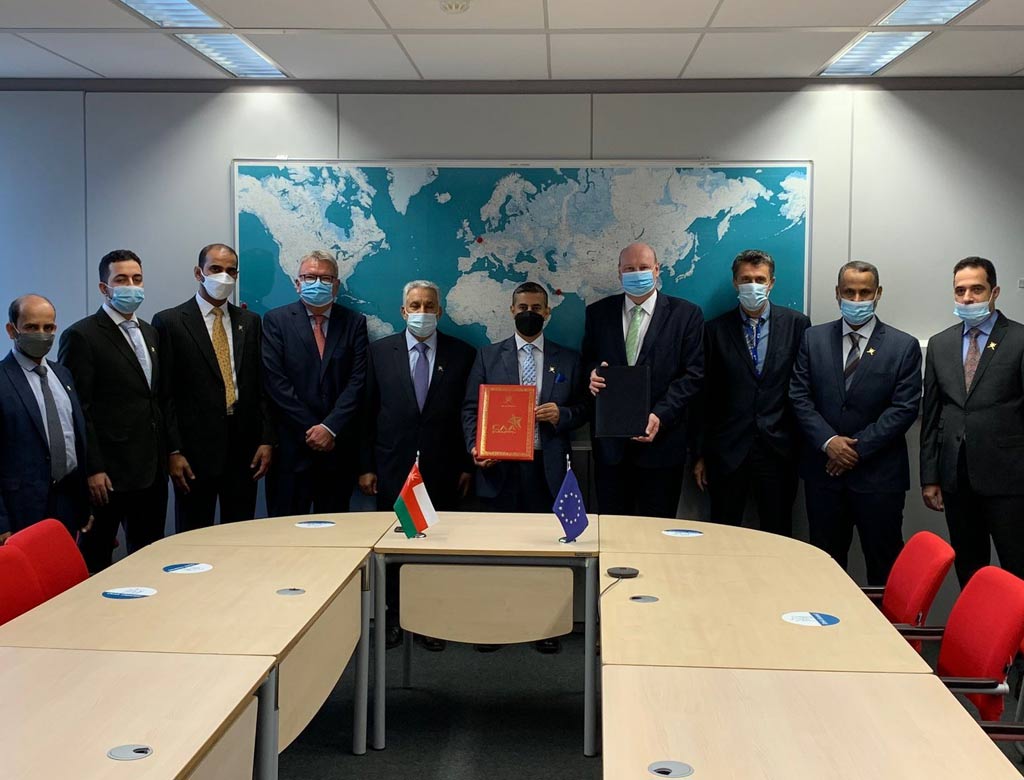 Oman, EU sign Comprehensive Air Transport Agreement
MUSCAT, December 1, 2021
Oman's Civil Aviation Authority today formally initialled a Comprehensive Air Transport Agreement with the European Union and its member states signalling the sultanate's ambitions for a more liberalised air traffic accord with the European Union.
The agreement strengthens both parties' commitment to fair access to markets for Oman and all EU member states and is an important first step in a planned five-year implementation leading up to a fully formalised open skies accord.
The signing was witnessed by Oman's Civil Aviation Authority President Eng Naif Bin Ali Al Abri; Najeem Sulaiman Al Abri, Ambassador of Oman to Belgium and head of the Omani Mission to the European Union; and Henrik Hololei, Director-General for Mobility and Transport of the European Commission.
Oman holds bilateral third and fourth air freedom rights with several EU member states, including France, Germany and Italy. The Comprehensive Air Transport Agreement paves the way for the sultanate to increase flight frequencies on existing European routes and add other European destinations for the national carrier Oman Air (WY) and Salam Air (OV), said the statement.
Reciprocally, the agreement will allow EU airlines to fly to all Omani airports from their home country or from any other EU member state. Currently, Air France and KLM are the only EU airlines that fly direct to Muscat International Airport (MCT).
The agreement effectively aims to ease market access to Oman for more EU airlines. Besides market access, the agreement also contains provisions on a number of other important aspects of aviation including commercial opportunities, doing business, safety, security, air traffic management, environment, fair competition and social aspects.
Eng Al Abri said: "We are delighted to initial today's Comprehensive Air Transport Agreement with the European Union and its member states which further strengthens the mutual cooperation and air connectivity between the Sultanate of Oman and European Union. Greater economic development through increased air traffic is just one of many benefits of an open skies agreement, and we are extremely confident that the inherent opportunities for tourism and an entire ecosystem of interconnected industries will flourish."
Hololei said: "Today's initialling illustrates the successful collaboration of both negotiating teams and further reinforces the close aviation ties between the EU and Oman. Once signed, this agreement will bring new opportunities, more choice and higher standards for passengers, industry and aviation workers. I look forward to taking our aviation partnership to the next level!"
Oman Air Chief Executive Officer Eng. Abdulaziz Al Raisi said: "Today's agreement signifies a tremendous achievement and defining moment for aviation and tourism in Oman as well as in the European Union. For Oman Air, it means more choice of destinations and travel options for both our business and leisure guests across an enhanced route network. It also gives European travellers easier access to Oman's diverse offering of beaches, mountains, wadis, deserts and UNESCO world heritage sites, allowing them to fully experience one of the Middle East's most sought-after destinations."
SalamAir Chief Executive Officer Captain Mohamed Ahmed said: "We are delighted at the advancement of this agreement. This partnership facilitates diversification of air travel in line with the Oman vision 2040 and will very much be beneficial for SalamAir. As we have taken delivery of our new A321neo long range aircraft, it is a timely opportunity for its operation on European routes. There is great potential for growth in travel between the Sultanate and Europe. This partnership will not only provide us a platform to expand our network, it will also aid us in providing a more affordable, convenient, and efficient service to passengers as well."
While country-specific Covid-19 restrictions have significantly dampened airline operations globally, Oman Air has been gradually resuming routes, including to popular European destinations paused during the pandemic's first and second waves. Since Oman's reopening to fully vaccinated arrivals in September this year, the airline has reinstated a number of its pre-pandemic European routes including London, Paris, Zurich and Munich, and it is confident that remaining paused routes will resume in early 2022 as global vaccination rates continue to increase and entry restrictions ease. – TradeArabia News Service