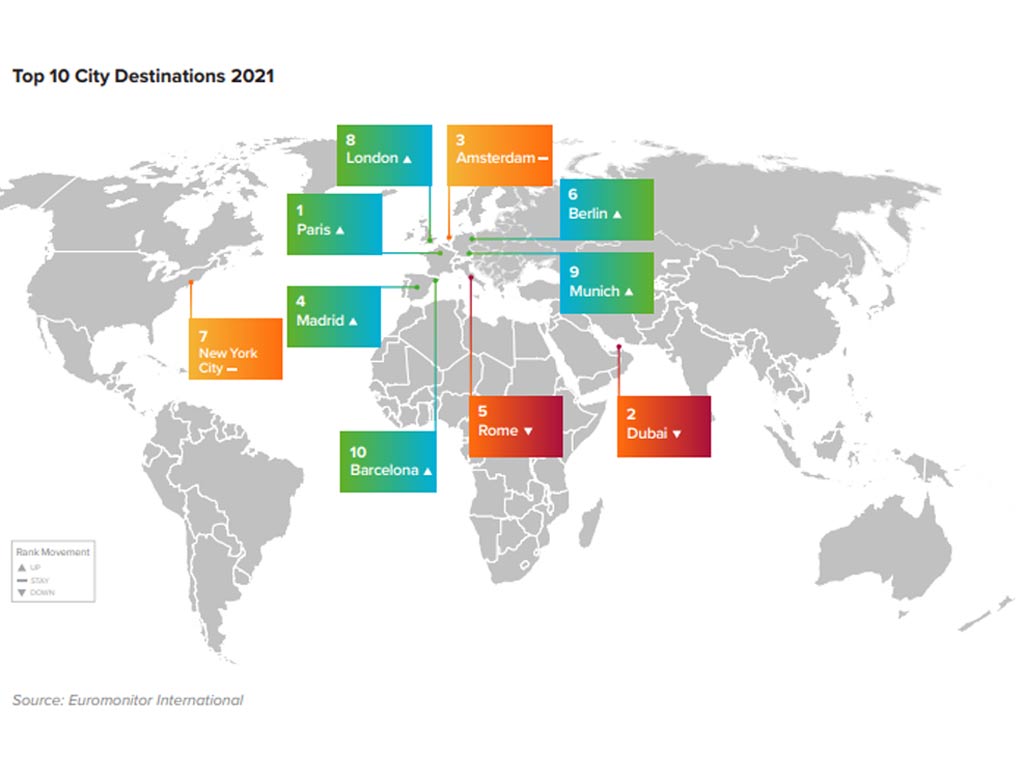 Paris tops Top 100 City Destinations index, Dubai second
LONDON, December 2, 2021
Paris ranks top and Dubai second in the 2021 Top 100 City Destinations Index developed by Euromonitor International.
Eight of the top 10 cities in the Top 100 City Destinations Index are European. Surprisingly, Asia lacks any representation. Tokyo is the highest-ranking Asian city, ranked 15th.
The index, which delivers a comprehensive and multi-layered analysis of key and emerging city hubs, aims to help businesses, tourism organisations and destinations identify cities that are showing strong tourism growth potential as well as uncovering areas of attention for tourism strategy developers.
The index highlights attributes that can help attract international investment, showcasing business readiness, resilience in times of adversity and opportunities for sustainable strategies.
The new index compares 54 different metrics across six key pillars for 100 city destinations, to create an overall city attractiveness score. It looks at Economic and Business Performance, Tourism Performance, Tourism Infrastructure, Tourism Policy and Attractiveness, Health and Safety, and Sustainability. Metrics are all weighted according to Euromonitor International's extensive research and global expertise.
Paris has the highest ranking in terms of Tourism Performance and second highest ranking in terms of Tourism Policy and Infrastructure globally. Its performance was boosted by American and Asian tourists returning to Paris.
However, the city still awaits the comeback of British tourists, one of its main source markets. The city is in the bottom quadrant in terms of Health and Safety, despite increased efforts to boost vaccination rates in a vaccine-hesitant population.
Dubai is ranked second in the index, having held the leading place globally during 2020. The city has
been open to international tourists since July 2020 and government efforts to mobilise and support
the travel and tourism sector have been pivotal. Dubai is the only city from an emerging country to
feature in the top 10.
Dubai ranks highest in terms of Health and Safety among the top 10 cities in the index. The vaccination process is easy, vaccination rates are high and stringent safety measures are in place for all public places and tourist spots. As a result, there is increasing visitor confidence among international and local tourists to the city.
German cities made positive strides among the top 10 cities globally in 2021. Berlin increased its ranking by two places during the year, reaching sixth place, and Munich improved by nine places to enter the top 10 ranking. While performance of these cities is relatively stable across all pillars, improvements in rankings were due to strong Tourism Performance and Tourism Policy and Attractiveness metrics.
Spanish cities also feature prominently among the top 10 cities. Barcelona increased in ranking by six
places to 10th place and Madrid is ranked fourth. Madrid ranks highest in terms of Sustainability and
third in terms of Tourism Policy and Attractiveness.
2021 marked a period of positive development for the travel and tourism sector as countries increased
vaccination efforts. Air routes opened and travel restrictions were lifted, leading to green shoots of recovery for many cities across the globe.
Euromonitor International's Top 100 City Destinations Index shows that European cities lead the recovery, with 39 cities making it into the top 100 ranking globally. Emerging markets have also made progress as leading city destinations. 45 cities in the index represent the emerging markets and nine emerging market cities feature in the top 50.
A comparison of the 2021 results versus 2020 offers valuable insight. In 2020, 67% of cities in the index represented emerging markets. The greater prominence of emerging markets during 2020 reflects the importance of the sustainable travel sector, which many of these markets naturally enjoy. With strong domestic travel markets, these cities emerged as less vulnerable to the crisis in the global tourism sector. Lower international connectivity and thus lesser virus exposure acted to the advantage of these destinations.
During 2021, 52 cities improved their ranks in the index. Cities from Europe and the Americas showed the most progress with 67% and 65%, respectively, of their cities showing a positive movement in their ranking. Cities from Asia and Australasia showed weaker improvement with only 21% of cities improving their ranking. - TradeArabia News Service