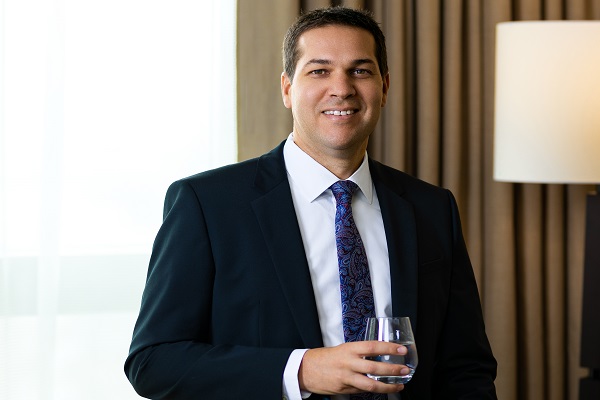 Dominic Arel
Swissotel Al Ghurair offers guests its own filtered water
DUBAI, August 18, 2022
Committed to upholding the Swiss sustainable standards, Swissotel Al Ghurair takes another stride forward introducing the in-house water filtration unit to offer its guests clean and fresh drinking water.
Connected to the iconic Al Ghurair Centre, one of the first shopping malls in Dubai, since 2018, Swissotel Al Ghurair has been welcoming guests on a journey centered on the guest's well-being and consciously made efforts to reduce its ecological footprint.
Proving to provide a great place to work and support the local community, the hotel has consistently paced ahead with its sustainability initiatives.
Filtration system
The filtration system treats discarded freshwater through various chemical and microbiological processes, which is then carefully bottled and distributed in guestrooms and dining areas. Dedicating a bottling and filtration room within the hotel that observes strict measures of sanitation and hygiene, this room is manned only by a few certified hotel colleagues.
Approved by Dubai Municipality Food Safety Department and observing Accor's safety standards, the filtered water is completely safe and is readily available for consumption of the hotel guests.
Speaking about the initiative, the General Manager, Dominic Arel says: "At Swissotel Al Ghurair, we invite guests to discover and join us in our mindful approach to Sustainability. We have tried and integrated sustainability and well-being in a guest journey through our "Vitality" corner, offering homemade jams and syrups; our a la carte menu includes homegrown vegetables, seasonal fruits, and sustainably sourced fish.
Sustainable programmes
"Meanwhile, at the heart of the hotel, we offer sustainable programmes for our colleagues with complimentary academic and physical exercise classes, "Adopt a plant" initiative follow Accor's Planet 21 guidelines, and have a "No plastic" regulation. In addition, we believe in giving back to the local community through our healthy partnerships with Evolvin' Women, Emirates Down Syndrome Academy, Al Jalila Foundation, and Zulekha Hospital, among many others. Embedded in the talent and culture of the team, Sustainability remains to be a key focus among the team at Swissotel Al Ghurair."
"One of my passion projects was the water-filtration system within the hotel, that I had been working on since August last year, and am very pleased with the support of my engineering and rooms team who brought the project to life. Every day we clean, fill and seal 1,800 bottles and offer fresh drinking water to our guests, considerably reducing the single-use plastic and energy, and water wastage.
"Together, we join Dubai government's initiative of Dubai Can and with the support of Accor, our stakeholders and employees, we take it as our duty to protect and preserve water for a better tomorrow. Life is a journey, live it well."-- TradeArabia News Service