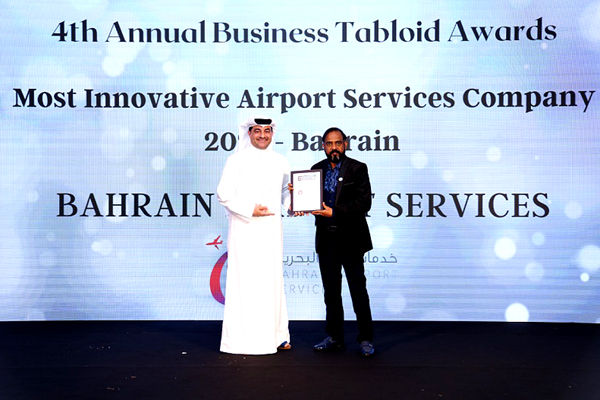 BAS wins 'Most Innovative Airport Services Company' award
MANAMA, January 28, 2023
Bahrain Airport Services (BAS), the sole operator of ground handling services at the Bahrain International Airport (BIA), has won the "Most Innovative Airport Services Company – Bahrain" award constituted by the Business Tabloid (BT) at a key event held in Dubai.
These annual (BT) Awards recognise excellence in various industries, including banking, finance, insurance, real estate, technology, healthcare, leadership and logistics and transportation. A panel of industry experts selected the winners from a pool of highly qualified nominees.
The award was presented to BAS Chairman Nabeel Khalid Kanoo and CEO Mohamed Khalil at a key event held at the Atlantis, the Palm Dubai.
Commenting on the achievement, Kanoo said: "At BAS, we strive to maintain the quality standards and practices we have implemented since our inception. As such, we are proud to have been recognised as the "Most Innovative Airport Services Company – Bahrain" by the BT Awards."
"We continue to develop leading services that establish Bahrain as a leader in the aviation services sector and contribute to the Kingdom's Economic Vision 2030," he added.
Khalil pointed out that over the past year, BAS had continued to develop its array of airport services, supported by the digital transformation journey and commitment to continuous innovation.
"This achievement further cements our industry positioning, and enables BAS to elevate its ground handling and airport services across the region," he added.-TradeArabia News Service