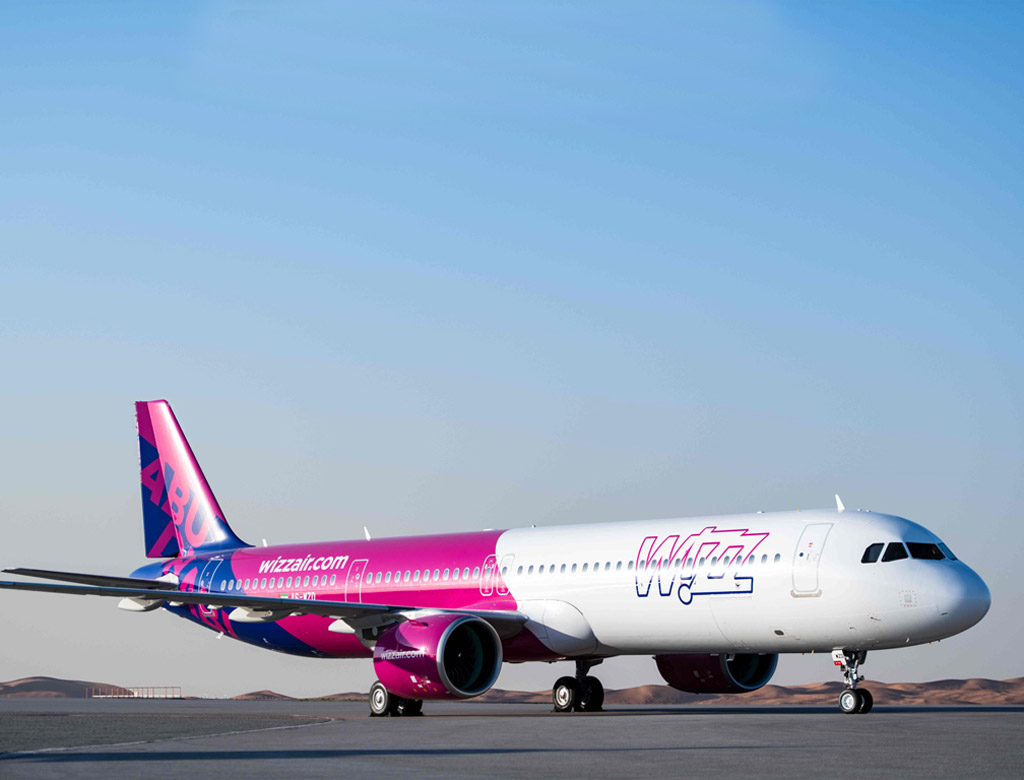 Wizz Air Abu Dhabi offers ultra-low fares for summer
ABU DHABI, May 24, 2023
Wizz Air Abu Dhabi, the ultra-low-fare national airline of the UAE, is providing an unmissable line-up of destinations with ultra-low-fares starting from AED179 ($48.7) during the upcoming summer.

Adventurous travellers are encouraged to book for summer leisure to exciting destinations including the Maldives, Larnaca, Salalah, Santorini and Antalya with Madinah set to be popular for the upcoming Hajj season.

Johan Eidhagen, the Officer and Managing Director of Wizz Air Abu Dhabi, said: "As the flagbearer of ultra-low-cost travel in the region, we are committed to providing ultra-low fares that empower travellers of all ages to embark on extraordinary and exhilarating adventures. Wizz Air Abu Dhabi offers an eclectic mix of captivating destinations across Europe, Africa, Central Asia, and the Middle East.

"We strongly encourage all travellers to secure their bookings early to enjoy the lowest fares during this summer season. Don't miss out on the opportunity to secure the lowest fares possible. We look forward to sharing our love of travel and welcoming you on board our aircraft this summer and beyond."

Located in the Indian Ocean, the Maldives is an unrivalled holiday destination, boasting white sandy beaches, spectacular sunsets and colourful reefs brimming with wildlife. With year-round tropical weather, this picturesque paradise promises ultimate escapism from everyday life.

Well-known for its palm-tree seafront, Larnaca is truly authentic and offers a plethora of tourist sites with laidback crowds. The port city has over 10,000 years of history and has a lived-in, local feel with its central location making it the ideal destination to visit Cyprus' must-see idyllic travel hotspots.

Salalah, most attractive during the wet and green khareef season between June and September, boats outstanding natural beauty with rich wildlife unique to the region. Sitting on a long sandy beach, Salalah is close to both mountains and the desert offering ample opportunities for exploration for adventurous travellers. Blessed with the famous warm Omani hospitality, Salalah offers unrivalled landscapes unseen elsewhere in the region with the sub-tropical magic of exotic fruit plantations and coconut palms.

Santorini, one of the most famous islands in the world, is located in the Aegean Sea and offers breath-taking views. Dazzling panoramas put the head-turning island on peoples bucket list with romantic sunsets and volcanic-sand beaches making Santorini a true supermodel of the Greek islands.

Antalya, the largest city on the beautiful Turkish Mediterranean coast, enjoys a fabulous mix of great beaches and traditional Turkish culture. Rich in history with a must-see Old City district and ancient Roman ruins, Antalya is the gateway to the Turkish Riviera with atmospheric accommodation offering excellent year-round opportunities to relax and explore.
Madinah, a historical city of religious significance, boasts breath-taking views and architecture. Known as 'The Enlightened City', Madinah is home to Al Masjid an Nabawi, the Prophet Muhammad's (Peace Be Upon Him) Mosque, the oldest mosque in the world. Madinah is the burial place of Prophet Muhammad and steeped in Islamic history and civilisation with prominent mosques and landmarks to visit.

Strategically located in the UAE, Wizz Air Abu Dhabi provides ultra-low fare, hassle-free and efficient travel options to Alexandria (Egypt), Almaty (Kazakhstan), Amman (Jordan), Ankara (Turkey), Aqaba (Jordan), Athens (Greece), Baku (Azerbaijan), Belgrade (Serbia), Bishkek (Kyrgyzstan), Dammam (Saudi Arabia), Kuwait City (Kuwait), Kutaisi (Georgia), Larnaca (Cyprus), Manama (Bahrain), Male (Maldives), Madinah (Saudi Arabia), Muscat (Oman), Nur Sultan (Kazakhstan), Salalah (Oman), Santorini (Greece), Samarkand (Uzbekistan), Sarajevo (Bosnia), Sohag (Egypt), Tashkent (Uzbekistan), Tel-Aviv (Israel), Tirana (Albania) and Yerevan (Armenia) among others.

With WIZZ Flex, passengers can cancel their flight up to three hours before departure without any fee and receive 100% of the fare immediately reimbursed in airline credit. – TradeArabia News Service