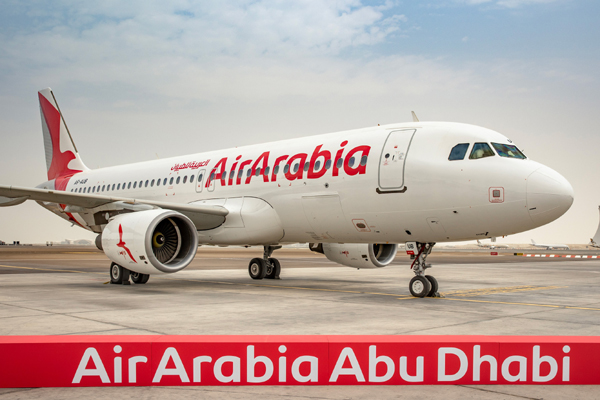 Air Arabia set to double fleet capacity within next 12 months
ABU DHABI, June 5, 2023
Leading Sharjah-based budget carrier Air Arabia plans to double its current fleet capacity within the next 12 months, in a step that aims to support Abu Dhabi's leisure and business tourism market and its growing aviation needs, reported WAM citing a top company official
"Tourism is one of the key pillars of the UAE economy. Abu Dhabi is an emirate with solid destination appeal and our enhanced fleet size will continue to support the current robust inbound tourism, in line with the Emirate's long-term vision of growing regional and global visitor numbers," stated Group CEO Adel Al Ali.
"In 2022, a record 15.9 million guests travelled through Abu Dhabi, nearly threefold the number of visitors in 2021 at 5.26 million. Air Arabia Abu Dhabi, which complements Etihad Airways' services from the UAE capital, is contributing to this remarkable growth by catering to the growing low-cost travel market segment in the region," he stated, highlighting Air Arabia Abu Dhabi's contribution to the capital's tourism growth.
"Air Arabia Abu Dhabi is supporting the UAE capital's growing prominence as a global tourism and business hub. Doubling the fleet strength will be crucial to meet growing passenger demand for low-cost travel as the city records a new wave of growth in tourism, driven by the Abu Dhabi Tourism Strategy 2030, which aims to attract 23 million tourists annually by 2030," he added.
On the carrier's expansion plans and utilisation of innovative tech solutions, Al Ali said: "Air Arabia Abu Dhabi has adopted a strategic approach to diversify its business and invest in innovative services to grow its market. The carrier follows the same strong business model adopted by Air Arabia Group, which focuses primarily on providing value-added services at affordable prices while investing in the latest technologies to expand market share."
He pointed out that Air Arabia was committed to providing the highest quality of service to its customers. "We are exploring new and agile technologies and services to enhance customer experience and provide a distinctive value proposition to all our passengers."
"The ongoing expansion plans will help service more unique and rapidly growing markets as the Emirate attracts a steady growth of business and leisure travellers. By continuously expanding its tourism and culture offerings, and providing diverse, immersive, and enriching experiences to visitors, Abu Dhabi is today a top-tier travel destination in the region with a well-developed aviation infrastructure and robust tourism ecosystem," he added.