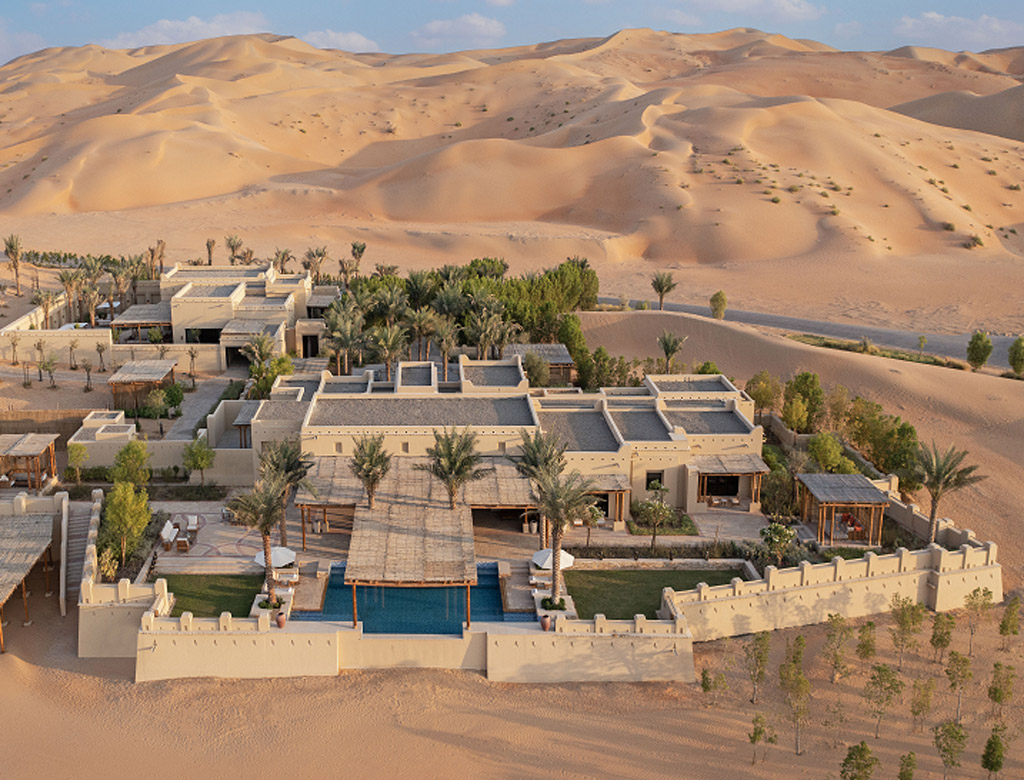 Al Sarab Villa – exterior aerial view
Qasr Al Sarab Desert Resort by Anantara offers new villas
ABU DHABI, June 8, 2023
The desert oasis of Qasr Al Sarab Desert Resort by Anantara in the UAE is now offering stay amid the dunes at the all-new four-bedroom Sahra Villa and two-bedroom Al Sarab Villa complete with its own private majlis.

Located a few minutes' drive from the resort in a secluded area offering unobstructed views of the fiery-red dunes of the Empty Quarter, both villas are part of the exclusive villa compound designed to offer utmost privacy and discrete service.

The 489-sq-m Sahra Villa is a palatial hide-away furnished in noble hues that can accommodate up to eight adults in its master bedroom and three twin bedrooms, each with its own private terrace. The villa also boasts a private swimming pool with a cabana and sprawling indoor and outdoor living spaces including a magnificent terrace inviting guests to stretch their eyes across the endless dunes.

At the expansive and opulent 853-sq-m Al Sarab Villa, guests are immersed in the natural beauty from the moment they step into the secluded sanctuary surrounded by palm trees. In addition to two elegant bedrooms accommodating a maximum of four guests, the lavish villa comes with ample space to entertain both indoors and outdoors, including a grand reception majlis and a fireplace to enjoy starry desert nights. On the outdoor terrace, a dining table sits alongside a fully equipped barbecue area, with sun loungers circling a private pool overlooking the dunes.

Guests staying at Al Sarab Villa can also choose to book the private majlis situated in a separate building close by, boasting floor-to-ceiling windows maximising the natural light. Warm and inviting, the space is designed for entertaining in true Emirati style amid contemporary Arabian design and artworks, with a team of butlers on hand to attend to every need. With a seating capacity of up to 20 guests indoors and an additional outdoor entertainment area, the sumptuously appointed majlis is ideal for private events and get-togethers.

In addition to having access to all the comforts of the luxury accommodation, guests staying in villas belonging to Qasr Al Sarab Desert Resort by Anantara's Exclusive Villa Collection can enjoy 24/7 dedicated personal butler attention, private entrance with shaded parking, Apple TV, Nespresso machine, pillow and soap menus, and other exclusive amenities.
Corporate groups looking to escape the hustle and bustle of the city can revel in the resort's new ultra-secluded villas and experience a tranquil destination that blends Arabian heritage with desert zen, for gatherings, workshops, and soul-soothing retreats. Groups can expect personal butler service and international gourmet cuisine from the resort's multiple dining destinations. – TradeArabia News Service