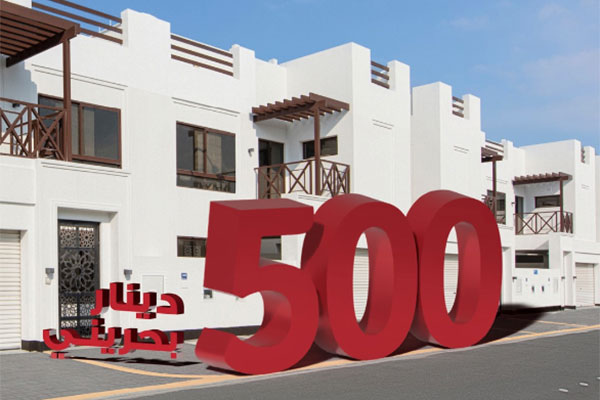 NBB extends Mazaya offerings for 1,000-unit residential project
MANAMA, January 25, 2022
The National Bank of Bahrain (NBB) has extended its offering to Mazaya and Joint Housing beneficiaries for the final phase of the Deerat Al Oyoun - a key real estate development located within kingdom's top integrated city Diyar Al Muharraq - with further instant cash prizes worth up to BD500 ($1,320) for 50 applicants.
A major project of Eskan Bank, Deerat Al Oyoun comprises 1,061 villas designed to offer the Bahraini family an ideal home.

NBB's offering comes as an extension of the first campaign's success, which was launched in November 2021, and awarded applicants with up to BD1,000 in instant cash prizes.
In addition, customers availed attractive interest rates, along with loan amounts covering the property value, a tenor period of up to 30 years, free fire insurance coverage and a fast and seamless approval process for Mazaya and Joint Housing beneficiaries.

Furthermore, NBB will waive the processing fees, land evaluation fees, as well as the life insurance premium on secondary loans within the Mazaya Financing Scheme to ease customer commitments and their financial burdens. The Bank will also pay the property registration fees, equating to 1.7% of the property value, on behalf of Mazaya beneficiaries.

Subah Abdullatif AlZayani, Chief Executive Retail Banking at NBB, said: "We are pleased to extend this exclusive offer, following the success of the first offer that adds value to buyers of the Deerat Al Oyoun project. The extension will provide buyers who missed out the first time with an opportunity to join NBB and benefit from the exclusive packages we have introduced.

"As part of our dedication to our customers, we aim to alleviate the pressures of owning a new home, and provide customers with attractive rewards as we remain committed to designing the best packages, placing our customers at the heart of all we do."

"As part of our customer-centric strategy at NBB, we will continue to roll out the best offers in the market to honour our commitment towards providing viable housing solutions in the Kingdom. We would like to reiterate our support to NBB's strategic partnership with Eskan Bank, and appreciate the social value it delivers to our community," he concluded. – TradeArabia News Service