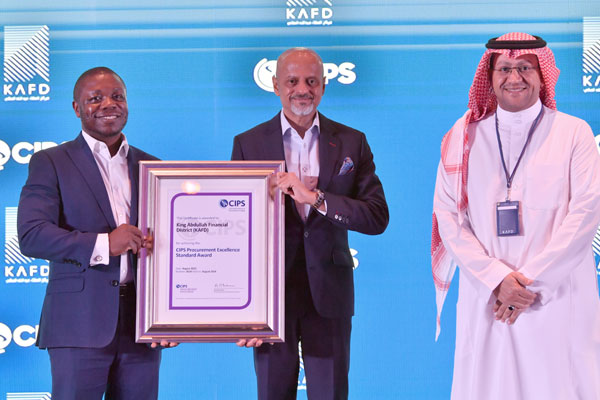 King Abdullah Financial District wins procurement excellence award
RIYADH, November 27, 2022
King Abdullah Financial District Development & Management Company (KAFD DMC) has won the Procurement Excellence programme from the Chartered Institute of Procurement & Supply (CIPS) for its prime development King Abdullah Financial District (KAFD), a major business and lifestyle destination with hitech digital infrastructure located in Riyadh.
A wholly-owned subsidiary of Saudi Arabia's Public Investment Fund, KAFD DMC oversees the development of King Abdullah Financial District.
Set in the heart of the capital, KAFD is home to 1.6 million sq m of state-of-the-art office space, world-class entertainment venues and iconic luxury residences. Its 94 towers, designed by 25 world-leading architectural firms, are reshaping the skyline of Riyadh.
The Procurement Excellence Programme (PEP) is a globally-recognised award presented to those organisations demonstrating excellence in their procurement and supply chain activities.
The award drives regular improvements, value across supply chains and highlights procurement's role as a fundamental part of an organisation's strategy and effectiveness.
KAFD DMC said its procurement team accomplished this feat in just five months, a distinctive accomplishment benchmarked against the wider industry.
"The award is a testament to our commitment to making sustainable practices central to KAFD's supply and management," remarked its CEO Gautam Sashittal after receiving the award from Sam Achampong, Managing Director CIPS at a special ceremony held in the KAFD Conference Centre.
"As the world's largest Leed-certified neighbourhood, KAFD is committed to maintaining high standards of energy efficiency and reducing water use, as well as ensuring sustainable practices across procurement processes," he stated.
"This award from CIPS is yet another stamp of global credibility on KAFD's international reputation in this regard. We are immensely proud of our team for achieving this award in record time," he added.
Sashittal said KAFD DMC was only the second company in Saudi Arabia to achieve this standard.
Lauding the feat, Achampong said this award recognises the hard work of talented professionals in the industry, and increases their credibility.
"The subject of sustainability is gradually being integrated into every segment of industries, which has helped strike meaningful collaborations, and attract excellent vendors," he added.-TradeArabia News Service