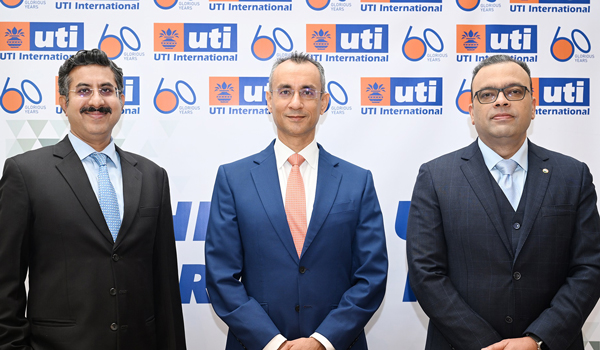 UTI officials in Dubai
Surging India offers Mena investors huge opportunity: UTI
DUBAI, January 19, 2023
Investors from the Middle East and North Africa (Mena) region have a huge opportunity in the surging growth of India with the country's economy on its way to becoming a $5 trillion economy.
This is according to UTI Asset Management Co LTD (UTI-AMC), one of India's largest and oldest Asset Management companies.
Celebrating its 60th anniversary in Dubai, the UTI Group, said that regional investors could leverage its time-tested strategy of $3X growth, which has been a continuing success for the last 10 years to partake in the Indian growth story.
Growing appetite
The overseas fully owned subsidiary of the group, UTI International, which has offices in Dubai, Singapore, Paris and London, has $2.9 billion assets under management catering to investors from over 35 countries. It manages Fund Structures from its offices in Dubai International Financial Centre (DIFC) and other offices across Singapore, Ireland, the Cayman Islands and Mauritius. UTI International will soon open its operation in the US to meet the growing appetite for investments in India.
Praveen Jagwani, CEO of UTI International said: "The Group manages $177 billion across Indian Equities and Fixed Income portfolios as of November 30, 2022. UTI is a legacy brand in India and is synonymous with trustworthiness and dependability and it is an honour to lead this organisation.
"India, on its way to a $5 trillion economy offers tremendous potential for investors from Mena to benefit from the growth of India in the future and UTI is the window."
UTI-AMC is a pioneer in the money management Industry in India. Created by an Act of the Indian Parliament in 1964, UTI has grown exponentially over the past six decades. Today UTI manages almost 12 million Live Folios, with a client base of approximately 10 per cent of the 120 million folios that are managed by the Indian mutual fund industry.
Quality of investment
Ajay Tyagi, Head of Equities, UTI AMC said: "Looking back at the past as to what helped us reach here, it's our philosophy towards excellence. UTI-AMC has always focused on the quality of investment. India Dynamic Equity Fund is one of our promising funds that underscore quality. It's about investing in businesses that can deliver returns on capital substantially and sustainably, higher than the cost of capital."
"We are buy-and-hold investors, investing in resilient businesses, not stocks. We are only interested in the outcomes businesses can churn out – their ability to solve a particular customer need and maintain high margins. Today we are comfortably positioned and poised for a leap for years to come," he added.
Mahesh Natarajan, Head of UTI Middle East and Africa said: "UTI International has been at the forefront of channelling investments into India via their various offshore vehicles. Our flagship fund, UTI India Dynamic Equity Fund, is $1.1 billion in size and has been top-rated by various fund ratings agencies like Lipper, Citywire, and Morningstar. Middle East investors are key to our growth for the future."
He added that this milestone event is a celebration of trust placed in UTI by its investors and partners and the team is focused on delivering and exceeding the expectations of the discerning Middle East investors.-- TradeArabia News Service