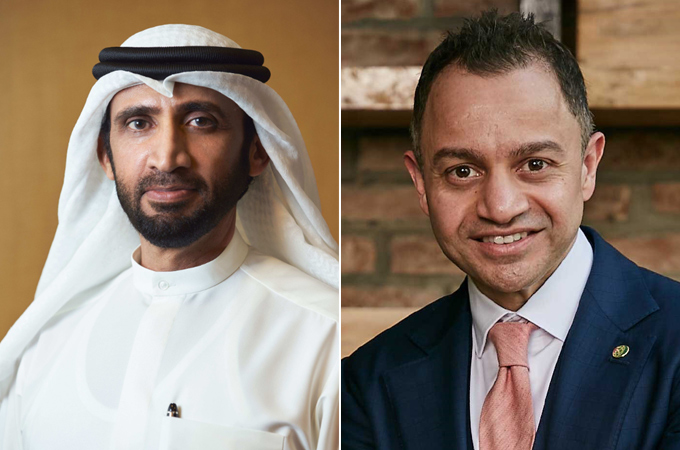 Mohammed Ibrahim Al Shaibani and Dr Adnan Chilwan
Dubai Islamic Bank profits soar 26% to $1.5bn
DUBAI, January 25, 2023
Dubai Islamic Bank, the largest Islamic bank in the UAE, today announced a record growth in group net profit of 26% to AED5.552 billion ($1.51 billion) in 2022 vs AED4.406 billion in 2021.
The strong growth was driven by rising core revenues, prudent cost management and sustained lower impairments, it said0.
Net financing and sukuk investments grew 5% YoY to AED238 billion. The bank attained nearly AED63 billion in annual gross new underwriting and sukuk vs AED50 billion in FY2021.
Total income reached to AED14.101 billion compared to AED11.795 billion, double digit growth of 20% YoY and 17% QoQ.
Net Operating Revenues showed a robust 11% YoY increase and 8% QoQ to reach AED10.467 billion.
Other key highlights of the financial results are:
•
Net operating profit of AED7.734 billion, a strong increase of 12% YoY and 10% QoQ, compared to AED6.892 billion in FY 2021.
•
Balance sheet expanded by 3% YoY to AED288 billion.
•
Customer deposits reached AED199 billion with CASA comprising 44% (+225bps QoQ) of the deposit base. Customer deposits were up 7% QoQ, primarily due to a 12% increase in CASA.
•
Impairment charges continue to decline registering AED2.103 billion against AED2.448 billion in previous year, lower by 14% YoY, demonstrating resilience of the financing book.
•
NPF ratio continues its downward momentum now at 6.5% lower by 30 bps YoY compared to 6.8% in FY 2021.
•
Cost to income further improved to 26.1%, down 70 bps YoY.
•
Liquidity remains healthy with LCR of 150%.
•
Continued improvement on ROA now at 2.0% (+47bps YoY) and ROTE at 17% (+400bps YoY).
•
Capitalisation levels remain robust with CET1 at 12.9% (+50bps YoY) and CAR at 17.6% (+50bps YoY), both well above the minimum regulatory requirement. Total equity now stands at AED44 billion.
DIB attained its strongest year in its history with robust growth in profitability as total income reached AED14 billion, a 20% YoY growth and balance sheet now at AED288 billion witnessing a 5-year CAGR of 7%," said Mohammed Ibrahim Al Shaibani, Director-General of His Highness The Ruler's Court of Dubai and Chairman of Dubai Islamic Bank.
"In light of the group's strong performance, we are pleased to propose a 30% dividend to our valued shareholders who have placed their trust and confidence in the Board and Management," he said.
"Dubai Islamic Bank posted spectacular annual profitability during FY2022 amounting to AED5.6 billion, the highest ever net income in our bank's history. This depicts our robust strategy and the management's efforts and commitment to enhancing shareholders value," said Dr Adnan Chilwan, Group Chief Executive Officer.
"Core banking profitability metrics and ratios were also solid with net operating revenue up 11% YoY due to a robust balance sheet structure. Return ratios followed suit with at ROA 2.0% (+47 bps YoY) and RoTE 17% (+400 bps YoY) surpassing our full year guidance and exhibiting the bank's agility to remain on track despite the on-going subdued global economic environment," he said.
The year saw some landmark achievements on the bank's sustainability journey with the successful launch of its sustainable finance framework followed by an inaugural issuance of $750 million sustainable sukuk.
"The above two firsts for DIB and the region showcase the beginning of an incredible journey to transform the bank into a leading sustainable financial institution aligned to our ambition of owning the ESG space," said Chilwan. – TradeArabia News Service