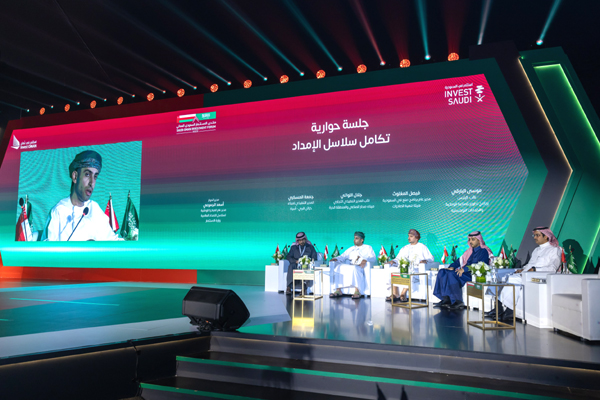 Saudi Arabia signs 13 key investment deals with Oman
RIYADH, February 1, 2023
The Ministry of Investment of Saudi Arabia (MISA) has concluded hosting a senior delegation from Oman, which culminated in 13 MoUs being signed covering vital sectors such as biochemicals, energy, mining, financial investment, logistics, maritime transport, information technology among other key sectors.
The Saudi-Omani Investment Forum follows several successful MISA events hosted with investment counterparts from such countries as Türkiye, Azerbaijan and South Korea resulting in enhanced cooperation and multiple MoUs to explore investment opportunities across several sectors.
The forum was opened by Khalid Al Falih, Saudi Minister of Investment, and Qais bin Muhammad Al-Yousef, Minister of Commerce and Industry and Omani Investment Promotion, who led an Omani delegation of diplomats and business leaders.
Attendees saw presentations by both Omani and Saudi representatives. From Oman, Invest in 2040 and Special Economic Zones in the Sultanate of Oman were highlighted as opportunities available to Saudi investors, while Saudi officials presented Invest in Saudi Arabia and Special Economic Cities and Zones which showcased the areas of investment available in the Kingdom.
The agreements signed today (February 1) underscore the long-standing partnership between Saudi Arabia and Oman, which has accelerated in recent years with several high-level engagements taking place in recent years.
In December 2021, Saudi Arabia and Oman announced the opening of the first land crossing between both gulf nations to promote trade exchange, while in April last year, Al Falih met the Chairman of the Oman Investment Authority Abdulsalam bin Mohammad Al Murshidi to explore the enhancement of investment cooperation.
Alongside the Investment Forum, Al Falih and Al Yousef opened the Saudi-Omani Industries Exhibition.
The exhibition, which runs until February 4, highlights the strong economic relationship between both nations across several sectors, showcasing products and services from small and medium enterprise businesses from both sides to stimulate opportunities for investment.-TradeArabia News Service