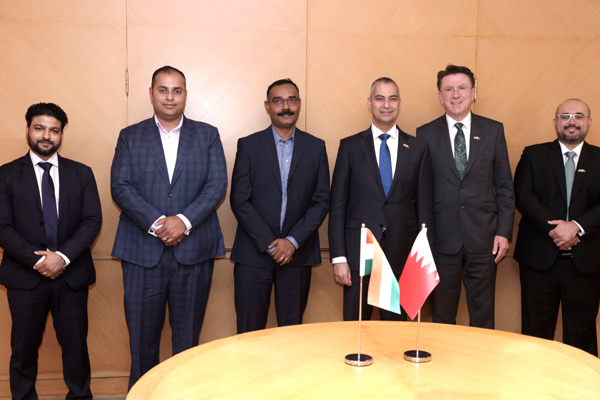 Indian groups Tata, Aerolam plan key investment in Bahrain
MANAMA, March 19, 2023
Leading Indian companies - Aerolam, a specialist in the production of insulation materials and Titan, the world's fifth largest wristwatch manufacturer - are set to launch their operations in Bahrain.
The announcement was made by Bahrain Economic Development Board (Bahrain EDB) on the sidelines of the recent high-level Bahraini delegation visit to India, which was organised to highlight investment opportunities in the kingdom across priority sectors.
These firms are expected to make a total investment of $45 million in the kingdom, it stated.
A part of the multi-billion dollar business conglomerate Tata group, Titan is renowned for transforming the watch industry in India. It operates several businesses including Tanishq, its flagship and fastest growing fine jewellery brand in the country.
Lauding Bahrain EDB for its efficiency, Naresh Nair, the Head of operations, at Tanishq, said: "Thanks to the level of support and agility of Bahrain's government, they made it incredibly easy for us to set up our operations in the country. We look forward to bringing our leading brands and products to Bahrain."
With a total investment of $30 million, Titan is set to launch its flagship brand Tanishq in Bahrain, backed by a franchise partner from India.
"We have earmarked the location of our first store and will be opening 3 retail outlets over a span of 15 to 18 months," he added.
Tanishq, he stated, has been synonymous with superior craftsmanship, exclusive designs, inimitable customer service and guaranteed product quality for over two decades.
"At Tanishq, jewellery is not just a product but a manifestation of artistry and our exquisite range of gold and diamond jewellery strikes the perfect balance between traditional charm and contemporary appeal. With designs that capture the beauty and celebration of special occasions, Tanishq aims to be an integral part of every woman's journey," explained Nair.
"Attesting to this commitment towards excellence, in 2019, Tanishq has been awarded the title of The Most Trusted Jewellery Brand in India by the Trust Research Advisory. Tanishq currently has a presence of 410 stores and is India's most trusted jewellery brand with an extremely high brand recall," he added.
The other company based in the western state of Gujarat, Aerolam Insulations is an expert in the production of insulation material in the likes of foam sheets and Cross-Linked Polyethylene pipes, precisely designed with high-end engineering and advanced research and development teams.
This marks it's first overseas manufacturing unit, being set up at an investment of $14.5 million within the Bahrain International Investment Park (BIIP).
Aerolam Insulations Managing Director Brijesh Patel said: "We have gained from the active support of the government of Bahrain and look forward to setting up our first manufacturing unit out of Gujarat, India."
"Bahrain was a natural choice given its central location and advanced logistics infrastructure, enabling us to cater to the GCC from Bahrain with greater speed and efficiency," he added.
On the robust investments, Ali Al Mudaifa, Chief of Business Development at Bahrain EDB, said: "We're thrilled to see these leading companies set up base in Bahrain and benefit from the key advantages that the kingdom uniquely has to offer."
"With Bahrain's business-friendly environment and advanced logistics infrastructure, we expect both companies to cement a strong foothold in Bahrain, adding to the diversity of our economy and capitalising on Bahrain as gateway to the region," he stated.
With strong bilateral relations, India consistently ranks as one of Bahrain's top 10 trading partners. The volume of trade between India and Bahrain has increased by 30% since 2018, reaching $1.4 billion in 2022.
Focusing on key sectors, including financial services, ICT, logistics, manufacturing, and tourism, Bahrain EDB successfully attracted more than $1.1 billion in foreign direct investment from multiple companies across the world in 2022, which are expected to generate over 6,300 jobs in the local market over the next three years.-TradeArabia News Service