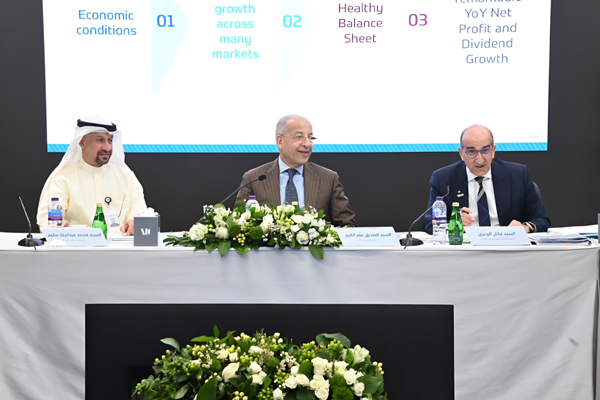 Bank ABC set to distribute $46m cash dividends for FY 2022
MANAMA, March 19, 2023
Bank ABC (Arab Banking Corporation) has announced that its shareholders have approved the board's recommendation to distribute cash dividends worth $46.4 million, ($1.5 cent per share) compared to $1 cent per share, up 50% when compared to 2021.
The announcement comes following the Annual Ordinary General Meeting today (March 19) at the bank's head office in Manama.
During the AGM, the shareholders approved, amongst other resolutions, the consolidated financial statements for the financial year ended December 31, 2022, with a net profit attributable to shareholders of $154 million.
The results come on the back of significant growth in core business across the Group's network, aided by higher interest rates prevalent during the year, contributing towards crossing a historic $1 billion mark in revenue.
ABC's total operating income crossed the $1 billion mark during 2022 for the first time in its history, with solid core business growth across the franchise, aided by higher interest rates prevalent during the year, said its top official.
"Bank ABC Group has been diligently executing its strategy, which is bearing results despite challenging market conditions. We continue to accelerate performance, and set bold aspirations, aiming to gain market share notwithstanding continuing economic headwinds such as ongoing war in Europe, persistent inflation, and tighter monetary policy in many of our markets," remarked Group Chairman Saddek Omar El Kaber.
"We remain steadfast on capitalizing our strengths and leveraging our investments to continue to drive profitable growth for 2023 and the years to come," he added.-TradeArabia News Service