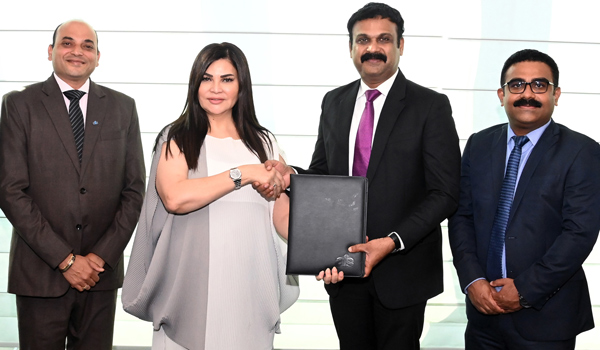 Officials after signing the agreement
LuLu Exchange ties up with AFS for BPay, debit card payments
MANAMA, May 21, 2023
LuLu Exchange Bahrain has partnered with Arab Financial Services (AFS) to facilitate BPay and debit card payments at all LuLu Exchange branches to make digital payments easier and more accessible for customers.
This collaboration is part of LuLu Exchange's ongoing digital transformation drive focused on achieving the vision of a cashless Bahrain economy. Lulu Exchange Bahrain customers can conduct transactions through the BPay app or their debit cards, at any local branches.
Customers can now use their BPay app to conveniently pay at all Lulu Exchange branches for international remittances with BPay QR payments which is easy and hassle-free. In addition, customers can also buy foreign currency through the settlement service.
Growing digital payments
Amira Ismail, Head of Merchant Acquiring Business, Bahrain at AFS, said: "We are constantly looking for ways to grow digital payments acceptance in Bahrain, in line with the evolving needs and expectations of today's customers. Today, with AFS's market-leading PoS acceptance systems now available at all LuLu Exchange branches across the Kingdom of Bahrain we are giving access to more customer-friendly, digital payment methods for greater convenience, security and efficiency of payment."
Edison Fernandez, General Manager of LuLu Exchange Bahrain, said: "This collaboration will provide an efficient and seamless payment experience, while also reinforcing our position as a leading financial services provider in the country. With this move, LuLu Exchange Bahrain is set to revolutionise the way customers send money and buy foreign currency, making it faster, safer, and more convenient than ever before."-- TradeArabia News Service