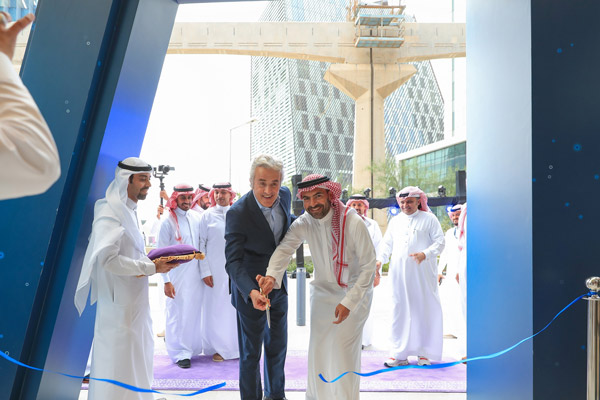 The new office opening
Bupa Arabia opens its new office in Riyadh
RIYADH, June 6, 2023
Bupa Arabia for Cooperative Insurance, the leading healthcare insurance provider Saudi Arabia, has opened its new office in King Abdullah Financial District (KAFD) in Riyadh.
As part of its expansion plan in the central region and nonstop efforts to support the kingdom's endeavours in developing the insurance sector, Bupa Arabia continues to consolidate its local and regional position as a leader.
Strategically located in the heart of the financial district, the new Bupa Arabia office combines modern facilities and innovative designs to create a work environment that fosters productivity, innovation, and service excellence.
The state-of-the-art facility showcases the company's dedication to providing an ideal workplace for its employees.
Taking care of employees' work-life balance, Bupa Arabia has incorporated a daycare centre within the premises, catering to the needs of employees' children. It also has a Bupa Lounge offering a welcoming space for employees and visitors.
Tal Nazer, CEO of Bupa Arabia said: "Bupa Arabia strongly believes in remaining close to its customers, delivering the best services to them and providing innovative insurance products in the kingdom, based on global best practices and experiences."
Nazer said: "The opening of Bupa Arabia's new headquarters represents a new step in our commitment to ensuring the future of the Saudi insurance sector and reaffirms our leading position in the industry. It reflects our journey of success within the kingdom, driven by our efforts to provide the highest levels of innovation in products, services, campaigns, and awareness events, as well as digital solutions that have greatly facilitated services and increased productivity."
"We are striving to provide the best work environment for the Bupa Arabia team, in line with our efforts to enhance employee productivity through training, work experiences, and innovative tools. We aim to enhance their skills and capabilities, achieve better integration between their personal and professional lives, enabling them to deliver their best to our customers," added Nazer.-TradeArabia News Service