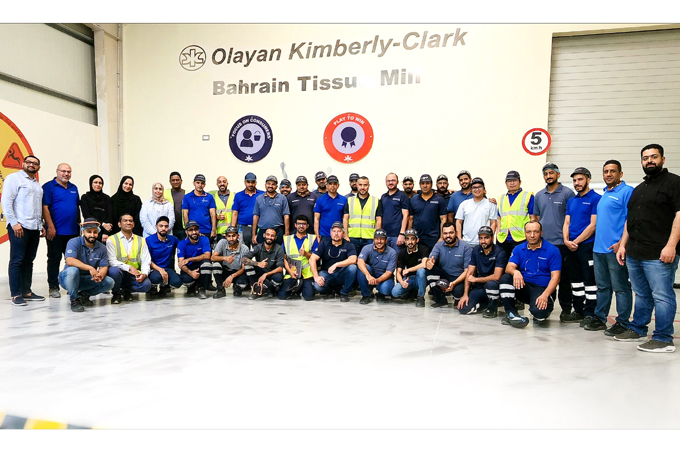 Olayan Kimberly-Clark's Bahrain unit cuts water use
MANAMA, November 23, 2022
Askar Manufacturing Facility, run by Olayan Kimberly-Clark in Bahrain, has reduced its 2021 water footprint by 55 percent within a span of just three years.
The facility's consistent reduction of freshwater consumption year on year has resulted in saving more than 52 million gallons in the last five years, said the company.
Located in one of the most water-stressed regions in the world where the Gulf Cooperation Council countries' water consumption is expected to hit 33,733 million cubic metres by 2050, the Askar Manufacturing Facility team were inspired by the Global Sustainable Development Goals (SDGs), as well as Kimberly-Clark's own 2030 sustainability goals, to make their freshwater consumption more responsible and efficient, it said.
To achieve their objective, the facility's team collaborated with the regional Kimberly-Clark team on a watershed analysis and conducted a best practices audit with other Kimberly-Clark facilities and the local government to identify opportunities for water consumption reduction.
They also initiated a plan to monitor, measure and react to any leaks and consulted with technology providers to implement further water-saving solutions and drive meaningful impact both internally at Olayan Kimberly-Clark and throughout the surrounding community. Askar employees were also engaged in the process through workshops and trainings to crowd source and implement new ideas.
Hany AbdelShafy, General Manager GCC at Olayan Kimberly-Clark, said: "We have the responsibility to make instrumental changes to achieve the global objective of reducing our carbon footprint, and this is even more relevant in the context of the industrial or manufacturing sector. An efficient manufacturing base is strategically important to national development and economic diversification, and as regional governments are rapidly growing their manufacturing capabilities, facilities such as Askar Manufacturing Facility serve as a powerful example of how to establish this important national development goal sustainably with the national carbon footprint reduction objectives equally in place."
"The whole team at Askar Manufacturing Facility was both professionally and personally invested in making a measurable difference to how we optimize our water consumption while looking at the larger picture of reducing our environmental footprint and progressing toward sustainable practices. We're already looking at additional milestones to achieve such as further decreasing consumption by 60 percent by the end of 2022 as well as saving enough water to fill 78 Olympic swimming pools within the next three years," commented Khaldoun Tahboub, Askar Manufacturing Facility Manager.
With the reduction in water consumption and overall costs, the manufacturing facility also noticed another added benefit to their manufacturing process. Typically, in tissue production, fiber is carried by water through different stages of the manufacturing process, so optimising the facility's water allowed for more efficient fiber usage and consumption.
In 2020, Kimberly-Clark Corporation announced its 2030 sustainability goals with the ambition to advance the well-being of 1 billion people in vulnerable and underserved communities around the world by 2030 while reducing its environmental footprint by half.
In its annual report on sustainability, which was issued in July 2022, Kimberly-Clark announced that in 2021 it achieved a 34 percent reduction of water consumption in water-stressed regions against their 2015 baseline. This achievement was driven by the company's strategic approach to water management which centers around technological innovation for circular solutions and best-in-class management systems, the company said. – TradeArabia News Service