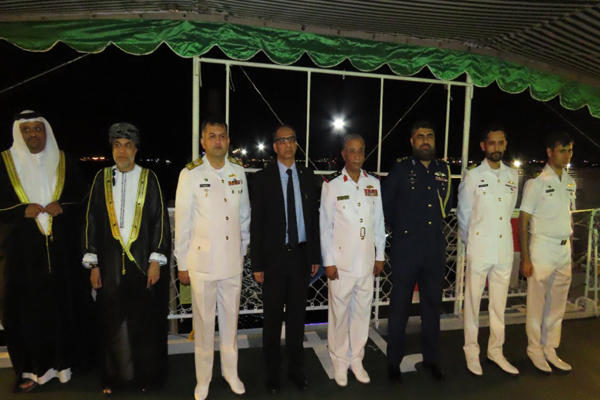 Commodore Khan (third from left), Ambassador Ayub, Rear Admiral Al Asam (fifth from left), and other guests on board PNS Behr Masah
Pakistan Navy 'committed to maritime safety'
, November 26, 2021
Abdulaziz Khattak
A contingent of three ships from the Pakistan Navy led by Mission Commander Commodore Rehan Ali Khan has made a goodwill visit to the Kingdom of Bahrain, reiterating its commitment to the region's maritime security.
Docked at the Mina Salman Port, they arrived on November 23 as part of an overseas deployment and to celebrate 50 years of Pakistan–Bahrain diplomatic relations.
A reception was held on board PNS Behr Masah, one of the three visiting ships. It was attended by the Commander of Royal Bahraini Naval Force (RBNF), Rear Admiral Mohammed Yousef Al Asam, the chief guest. Others in attendance included Pakistan's Ambassador to Bahrain Muhammad Ayub, officers from the Combined Maritime Forces (CMF), ambassadors and other local and foreign dignitaries.
Speaking on the occasion, Commodore Rehan said: "Pakistan ascribes great importance to its relations with Bahrain and is keen to further enhance these brotherly relations in all spheres. Our current visit to Bahrain will open new vistas for future cooperation in the maritime arena:
He expressed Pakistan's will and desire to make all out efforts for eradication of piracy and elimination of its underlying causes.
Pakistan Navy has deployed its units for Regional Maritime Security Patrol (RMSP), fulfilling international obligations towards maritime security and safeguard national shipping while observing freedom of navigation across high seas.
Pakistan Navy has the rare distinction of commanding CTF-150 and CTF-151 eleven and nine times, respectively. Pakistan also has created its own Regional Maritime Security Patrol.
"Pakistan believes in promoting peace and security in the region and has remained committed to international community for maintaining stability and to curb terrorism in all its forms," Commodore Rehan said.
Also speaking on the occasion, Pakistan's Ambassador to Bahrain Muhammad Ayub, said: "Pakistan Navy is a longtime contributor to international security operations as a participant in the multinational CMF, particularly the group's Combined Task Force 150 and anti-piracy Combined Task Force 151.
He said: "As a partner of the Combined Task Force, Pakistan Navy ships with strategic assets and personnel are carrying out important missions to promote security, stability, and prosperity across approximately 3.2 million sq miles of international waters, encompassing some of the world's most important shipping lanes."
ADVANCED VESSELS
Part of the visiting contingent is PNS Dehshat, a missile fitted fast attack craft indigenously built in Pakistan. The ship is equipped with state-of-the-art weapons and command and control system.
The second ship, PNS Behr Masah, is an advanced survey vessel used to explore marine recourse and mapping of uncharted waters. Commodore Rehan said the benefits of its mission will equally be accrued by the regional maritime community.
The third ship, PMSS Hingol, is the lead ship of the Hingol-class maritime patrol vessel. It is equipped with modern law enforcement tools and can efficiently conduct maritime operations, such as counter piracy, counter narcotics, anti-smuggling and human trafficking operations. The ship also plays a pivotal role in enforcing all national and International laws as per the United Nations Convention on the Law of the Sea (UNCLOS).
Commodore Rehan conveyed wishes from Chief of the Pakistan Naval Staff Admiral Muhammad Amjad Khan Niazi NI to the people of Bahrain in general and the RBNF in particular.
He said Pakistan Navy has always been forthcoming in training personnel from brotherly countries in its institutions. To date, it has trained a total of 554 personnel of RBNF while another 57 are currently undergoing training. --Tradearabia News Service