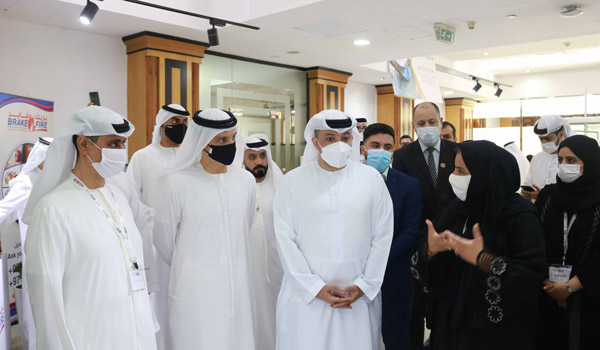 Officials at the inauguration
'Made in AFZ' exhibition opened in Ajman
AJMAN, November 28, 2021
Emphasising that free zone is pivotal to boosting Ajman's position as preferred destination for business and UAE's status as a global trade and investment centre the 'Made in AFZ' exhibition was opened in Ajman on November 28.
The exhibition was launched to showcase the innovative products and services of companies operating at Ajman Free Zone, as well as provide a platform for building new strategic partnerships, said Eng Omar Bin Omair Al Mheiri, Acting Director General, of Ajman Free Zones Authority, who inaugurated it.
Al Mheiri emphasised that the event, running till November 30 under the patronage of Sheikh Ahmed bin Humaid Al Nuaimi, Chairman of the Board of Ajman Free Zones Authority, reflects the commitment of the free zone and the emirate of Ajman to build an environment that can fast-track business expansion and success, increase the emirate's economic and investment activities, empower entrepreneurs, and support the growth of the small and medium enterprise (SME) sector, the backbone of the national economy.
He said: "The 'Made in AFZ' exhibition is a continuation of our initiatives aimed at revitalising and accelerating Ajman's economic recovery and growth. Through this event, we seek to stimulate more commercial and investment activities across industries, especially in the SME, to help build a diverse local economy, increase Ajman's capability to meet the requirements of the future, and raise the emirate's global competitiveness. We aim to make the local business environment more attractive to foreign companies and investors while ensuring the business community's sustainable growth."
"Over the past years, Ajman Free Zone has significantly contributed to Ajman's economy-- effectively helping guide its growth and strengthening the emirate's prominent position as a preferred destination for business. We are also helping enhance the UAE's active role in the global trade activities through our many initiatives. The free zone will move forward with its efforts to support businesses and ensure their success at the regional and global levels through a unique model that provides a unified platform for services and solutions. In addition, we will continue to work with our partners to ensure fast delivery of services and expand our offered solutions and facilities to our community," Al Mheiri added.
Eng Ali AlSuwaidi, Director General of Ajman Free Zone, said that the exhibition forms part of the free zone's initiatives to empower its business partners, as well as give them a broader space where they can forge new cooperation and highlight their products and services.
AlSuwaidi said: "The 'Made in AFZ' exhibition mirrors our commitment to provide businesses with innovative solutions that accelerate their expansion and stimulate new investment activities. It is an extension of our endeavors to simplify and facilitate the ease of doing business in our community through our integrated commercial and investment system, as well as serve as an incubator for companies to grow. Our main objective at Ajman Free Zone is to consolidate the position of the emirate and the UAE as vital economic centers. We also seek to help realise the vision of our wise leadership and contribute to building a diversified and knowledge- and innovation-driven economy. During the UAE's preparations for the next 50 years, we will strive to reach new levels of leadership and excellence."
Participating in the exhibition are several companies engaged in food and beverage, textile and health and beauty businesses, to name a few. Day one saw Coffeekif presenting the history and growth of Ethiopian coffee and the launching of a new product produced by cosmetics company Lolita Bonita.
A panel discussion on the impact of the Covid-19 pandemic on the real estate and building and construction markets was also held during the opening day. Furthermore, Centre Point signed a Memorandum of Understanding (MoU) with Lolita Bonita during the same day.-- TradeArabia News Service