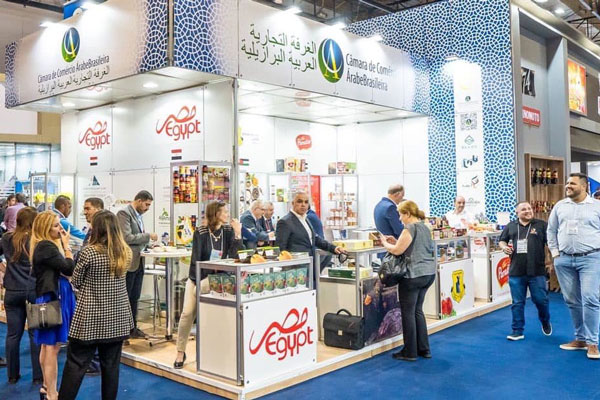 The Egyptian stand at the show
26 Arab companies show prowess at APAS exhibition in Brazil
SAO PAULO, May 19, 2022
Some 26 firms from the Arab World have showcased their products at Arab Brazilian Chamber of Commerce (ABCC) stands at the APAS exhibition, the largest food, beverage and supermarket trade show in Latin America.
The four-day event - which was held between May 16 and May 19, 2022, at São Paulo in Brazil - is back after remaining suspended for two years due to the Covid-19 pandemic.
Meanwhile, in addition to bringing companies from the UAE, Egypt, Jordan and Tunisia to join the show, ABCC also held parallel business activities for Arab delegations.
More companies
ABCC has participated in the APAS show since 2016, and every year it has brought more and more Arab companies and expanded its stands.
The Arab companies which participated in the event include one from Lebanon, two from Tunisia, two from the UAE, eight from Jordan, and 13 from Egypt. They showcased products like spices, teas, dates, Arab pastries, dried fruits, raw fruits, peppers, dried tomatoes, olive oil, olives, coffee, frozen fruits and vegetables, canned food, and cosmetics.
Osmar Chohfi, President, ABCC, said: "This is for the first time that we had this number of stands at APAS following higher demand for space due to the willingness shown by many Arab companies to participate in the event. This has resulted in the increase in the number of visitors to our stands, resulting in more business as compared to the last edition of the event held in 2019. The event is a perfect platform to showcase and raise awareness about the products manufactured by the Arab companies and generate business from this part of the world. Business fraternity has always preferred in-person meetings, be it Brazilians during the Expo 2020 Dubai or Arabs at APAS."
Beyond food
In addition to foods and beverages, the show featured sectors such as groceries, fruits, vegetables, and hygiene and grooming. Themed "Beyond Food,' this year's show encompassed sectors across the supply chain such as technology, innovation, logistics, finance, infrastructure, equipment, start-up, and others.
Besides the programme at the APAS show, two Arab delegations - one from Egypt and another one from Jordan - had business appointments organised by the ABCC during the period. The activities included workshops, B2B meetings, and technical visits.
The event brought together over 800 national and international exhibitors across a 75,000 square metre area. In addition to the exhibition, the event featured over 70 lectures with experts in innovation, technology, intelligence, productivity, industry trends, and political and economic outlook.-- TradeArabia News Service