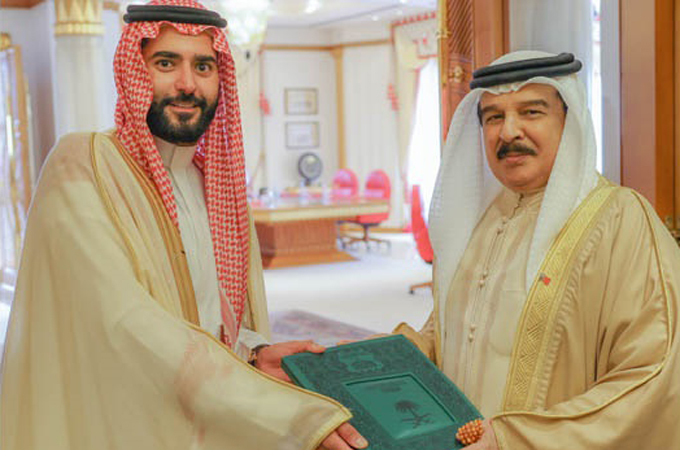 HM the King receives the letter from Saudi Ambassador (left)
Bahrain King invited for key summit in Saudi Arabia
MANAMA, June 26, 2022
His Majesty King Hamad bin Isa Al Khalifa of Bahrain has received a letter from the Custodian of the Two Holy Mosques King Salman bin Abdulaziz Al Saud, including an invitation to attend a joint summit between the GCC leaders, Jordanian Monarch, Egyptian President, Iraqi Prime Minister and the US President, which will be hosted by Saudi Arabia next month.
The letter was handed over to HM the King by Saudi Ambassador to Bahrain, Prince Sultan bin Ahmed bin Abdulaziz Al Saud, during a meeting with His Majesty at Sakhir Place today, said a Bahrain News Agency report.
HM the King expressed thanks and appreciation to the Custodian of the Two Holy Mosques for the invitation, praising solid historical fraternal relations between the two brotherly countries and peoples. He also lauded the continuous cooperation and coordination at all levels.
HM the King commended the efforts of HRH King Salman to further strengthen the Bahraini-Saudi relations and develop joint Gulf projects. He also lauded his efforts to the deepen relations and cooperation between brotherly people as well as promote security, stability and peace in the region.
HM the King wished the upcoming summit every success in attaining its goals of preserving regional security and stability, protecting the interests of brotherly countries, serving Arab issues and boosting strategic relations with the US.