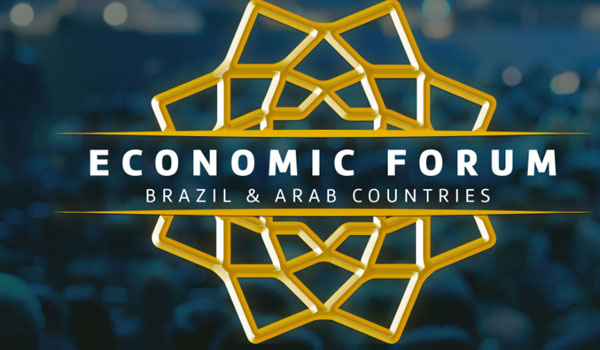 The Forum flyer
Future of Brazil-Arab League partnership to be focused at Forum
SAO PAULO, July 3, 2022
Issues such as Arab food security, fertiliser supply for Brazilian agribusiness and the adoption of new business practices in a post-pandemic market will be discussed at the fourth Economic Forum Brazil & Arab Countries.
To be organised by the Arab Brazilian Chamber of Commerce in Sao Paulo, Brazil, on July 4, 2022, the forum will focus on core topics including bilateral relations between the two sides.
Themed "Legacy & Innovation," the hybrid event will be held at the Hotel Renaissance in Alameda Santos, starting at 8.30 am. Interested parties can also join the live stream on an interactive platform that offers instant translation.
Strategic partnership
Tamer Mansour, Secretary General of Arab Brazilian Chamber of Commerce, said: "The Forum will serve as a platform for high-level discussions between top-ranking Brazilian and Arab authorities on strengthening strategic partnership between the two sides. The forum also coincides with the 70th anniversary of ABCC, marking an important milestone for the Arab community in their historic relations with Brazil."
According to Mansour, Brazilian President Jair Bolsonaro will address the participants virtually at the forum. Dignitaries from the Brazilian government such as Joaquim Leite, Minister of Environment, and Carlos França, Minister of Foreign Affairs, are also expected to join virtually. The UAE Climate Change and Environment minister Mariam Al Mehairi will be delivering her speech on behalf of the Arab countries.
Other dignitaries participating in the forum are Flávio Augusto Viana Rocha, Special secretary for Strategic Affairs; Augusto Pestana, President of Brazilian Trade and Investment Promotion Agency (Apex-Brasil); Osmar Chohfi, President of Arab Brazilian Chamber of Commerce; and Abdullah Al Mazrouei, President of Union of Arab Chambers. Hamilton Mourão, Vice-President of Brazil, will give the closing remarks at the event. In addition, representatives of Arab embassies in Brazil, businesspeople and other authorities will also participate in the event.
Four panel discussions
The forum will feature four panel discussions on cooperation between Brazil and the Arab league and will seek ways to expand relations within a strategic framework. The first session will focus on the impact of the pandemic on bilateral trade and delve deeper into finding solutions to address existing challenges.
Ambassador Rubens Barbosa, Chairman of the Institute of International Relations and Foreign Trade will be speaking in this panel.
New Development Bank President Marcos Troyjo and Ângela Martins, CEO for Latin America at First Abu Dhabi Bank, will participate in the second panel, where discussions will be held on adding value to the current trade relations and promoting bilateral investments between Brazil and Arab countries. Furthermore, the panel will also assess the impact of Brazil's plan to join the Organisation for Economic Cooperation and Development (OECD).
ESG challenges
Discussions on challenges in environmental, social and corporate governance will be the focus of the third panel. Initiatives taken by global companies in Arab countries will be highlighted along with an assessment of the leading trends in international governance. Lorival Luz, CEO of BRF, Ricardo Santin, President of Brazilian Association of Animal Protein and Ali Hussein El Zoghbi, Vice President of FAMBRAS Halal vice president will the members of the panel.
The final panel will feature Roberta Junqueira, Director of Operations of Biobots Tec and Ahmed Elmurtada, partner of @249Startups, who will elaborate on the influence of digitisation on trade practices in the Arab region, where e-commerce is showing a high growth as compared to the rest of the world. The role of technologies like metaverse and blockchain in e-commerce will be discussed as well.
Business delegations from Lebanon, the UAE, Egypt, Kuwait, Jordan, and other countries, with at least 120 businesspeople will be participating in the Economic Forum Brazil & Arab Countries to foster bilateral relations between the two regions. They will take part in B2B interactions with potential partners in Brazil. The forum will be sponsored by Apex-Brasil, BRF and Sadia.
The event is sponsored by Apex-Brasil, BRF and Sadia Halal. In addition to the Chamber, the initiative is also held by the Khalifa Industrial Zone Abu Dhabi (KIZAD), certifier FAMBRAS Halal, Pantanal Trading, and Embratur.-- TradeArabia News Service