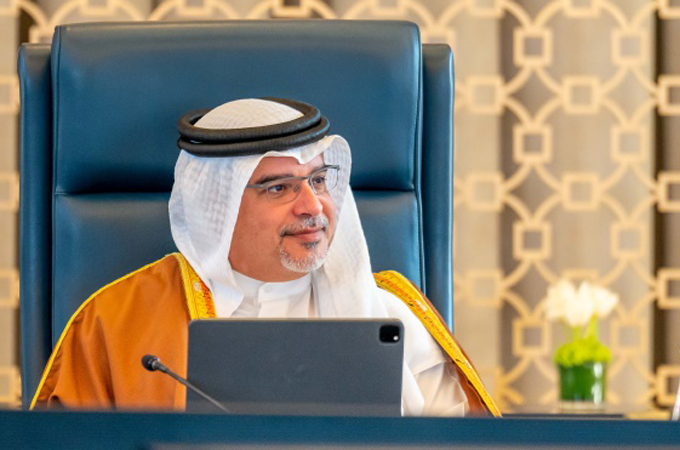 HRH Prince Salman bin Hamad Al Khalifa chairing the Cabinet meeting
Image courtesy: BNA
Bahrain achieves key successes, says Deputy King
MANAMA, November 21, 2022
Despite the global challenges presented over the past few years, Team Bahrain was able to ensure the kingdom's prosperity and ongoing development, with a wide-range of achievements, said the Deputy King, His Royal Highness Prince Salman bin Hamad Al Khalifa.
Chairing the weekly Cabiner meeting, HRH Prince Salman bin Hamad said the achievements include the successful implementation of the royal directives to provide 40,000 housing units, the opening of the passenger terminal at the new Bahrain International Airport, the establishment of the Exhibition World Bahrain, Al Dur 2 Independent Water and Power Project, the infrastructure and electricity projects, continued adoption of digital transformation in government services, the launch of the Economic Recovery Plan and its priorities, as well as the Fiscal Balance Programme, said a Bahrain News Agency report.
They also include the provision of investment opportunities in major strategic development projects worth $30 billion, including new cities, and investment and industrial zones. Simultaneously, the construction of strategic road and infrastructure projects, and projects that advanced the health and education sectors were also key successes in the Kingdom's development, said HRH Prince Salman.
His Royal Highness outlined the Kingdom's commitment to improving services provided to Bahraini citizens, including housing, health, educational and social services, and increasing public-private partnerships to further the Kingdom's development.
His Royal Highness extended his sincere gratitude for the trust His Majesty King Hamad bin Isa Al Khalifa has bestowed upon the government to serve the kingdom and its citizens.
HRH Prince Salman bin Hamad affirmed the government's commitment to implementing His Majesty the King's Royal Directives to achieve the aspirations of Bahraini citizens and to complete the implementation of the 2019-2022 Government Program, which was launched by the government during the premiership of the late HRH Prince Khalifa bin Salman Al Khalifa, through cooperation with the legislative authority.
HRH Prince Salman bin Hamad commended public sector professionals who have turned challenges into opportunities and achievements in line with the kingdom's comprehensive development, led by HM the King.
HRH the Crown Prince and Prime Minister extended his congratulations to the newly elected members of the Council of Representatives, wishing them success in carrying out their national responsibilities and loyally serving the kingdom and its citizens.
His Royal Highness noted the Council of Representative's efforts, during the fifth legislative term, and cooperation with the Executive Authority. In this regard, His Royal Highness emphasised the importance of furthering ongoing cooperation between the executive and legislative authorities, to meet the kingdom's development goals that benefit Bahraini citizens.
The Deputy Prime Minister and Minister for Infrastructure, Shaikh Khalid bin Abdulla Al Khalifa, extended his gratitude, on his and the Cabinet's behalf, to HRH the Crown Prince and Prime Minister.
He added that His Royal Highness's directives have strengthened the government's ability to overcome challenges and deliver results that benefit the country and its citizens.