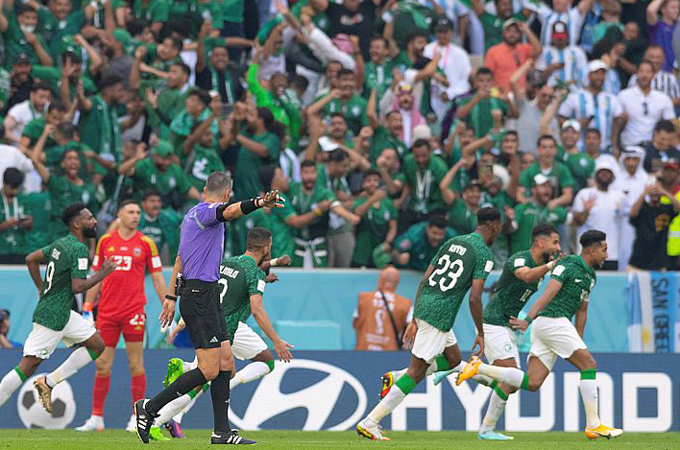 Saudi Arabia declares holiday after historic World Cup win
RIYADH, November 22, 2022
Saudi Arabia has declared tomorrow (Nov 23) a holiday for all employees in the government and private sector sectors as well as students in all educational institutions, celebrating Saudi national team's historic victory against Argentina in the World Cup.
A Saudi Press Agency report said the Custodian of the Two Holy Mosques King Salman bin Abdulaziz Al Saud has approved the holiday that has been proposed by His Royal Highness Prince Mohammed bin Salman bin Abdulaziz Al Saud, Crown Prince and Prime Minister.
The Saudi team defeated Argentina 2-1 in the match played at Lusail Stadium in Doha.
Lionel Messi progressed Argentina with a goal from the penalty kick before Saleh Al-Shehri and Salem Al-Dawsari scored two goals for Saudi Arabia in the second half to give them their first victory of the current World Cup.
The Argentina national team had completed its campaign in the South American World Cup qualifying tournament without a loss, extending its streak of games without defeat to 36 straight, with 25 wins and 11 draws. Saudi Arabia ended that streak at Doha.