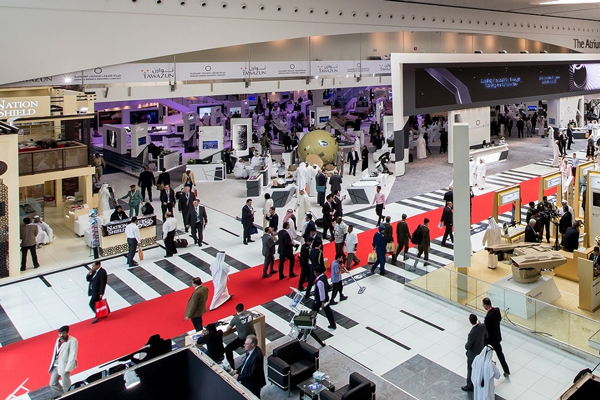 A former edition of Idex
Idex and Navdex 2023 to host over 15 high-level panels
ABU DHABI, January 15, 2023
Idex and Navdex 2023 exhibitions, which will be held from February 20 to 24, will host over 15 high-level panels focusing on three main themes.
The panels will feature prominent intellectual leaders and decision makers from around the world, who will discuss innovative technologies and solutions in the defence industry.
The panels' agenda will feature insightful presentations and interviews about the role of advanced technology in supporting and accelerating decision-making by improving organisational flexibility in defence sectors.
AI and autonomous systems
Five sessions will cover topics related to AI and autonomous systems, five other sessions will cover diversity and inclusiveness in the defence sector, while the remaining sessions will shed light on emerging technologies and their impact on the sector.
Adnec Group is organising the 16th edition of the International Defence Exhibition & Conference (Idex 2023), and the 7th edition of the Naval Defence & Maritime Security Exhibition (Navdex 2023), in cooperation with the UAE Ministry of Defence.
The panels are an ideal platform for facilitating discussions around relevant focus areas in the defence and naval defence sectors. Participants will discuss a number of vital topics such as AI, autonomous systems, diversity, inclusion, and emerging technologies, which play a vital role in increasing efficiency, supporting decision-makers, and predicting future needs.
Exchanging knowledge
Saeed Al Mansoori, CEO of Capital Events, a subsidiary of Adnec Group, said: "Hosting these panels for the first time in this global event comes in line with Adnec's strategy to provide a platform for exchanging knowledge in promising vital sectors. The panels aim to foster the exchange of ideas, expertise, and knowledge to develop national skills and capabilities and support their efforts in enhancing the competitiveness of national defence industries on a local and international level."
Brigadier General Mohammed Hamad Al Kaabi, Chairman of the Organising Committee of the International Defense Conference accompanying the two exhibitions, said: "The sessions, which are held for the first time as part of the Idex and Navdex exhibitions, under the patronage of His Highness Sheikh Mohammed bin Zayed Al Nahyan, President of the UAE, are a great addition to the event. The sessions contribute to consolidating the leading position of the two exhibitions and the accompanying conference as a global platform for exchanging of knowledge and expertise with elite leaders of defense industries in the world, and provide a real opportunity to discuss a range of issues related to defense industries and advanced technology. They also shed light on the UAE's distinguished capabilities in the sector, and its efforts to define a more developed future for the defense sector and defense technologies."
Biggest events
Idex and Navdex are the biggest events of their kind in the world, and will be attended by industry leaders, officials, decision-makers, ministers, experts, and specialists from around the globe. This year's edition of Idex also marks the 30th anniversary of its launch.
Idex and Navdex are world-leading platforms that showcase the latest innovations and technologies in the international defence sector, and feature the latest technologies and equipment developed by defence sectors around the world. The previous edition of the two exhibitions in 2021 was a resounding success, receiving more than 62,000 visitors and hosting more than 900 domestic, regional, and international companies representing 49 countries, along with 35 national pavilions.-- TradeArabia News Service