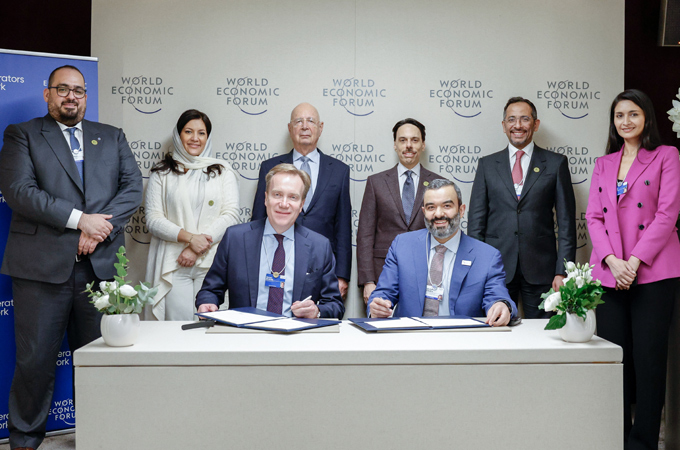 KACST, WEF to launch innovation accelerator
DAVOS, January 17, 2023
The King Abdulaziz City for Science and Technology (KACST) of Saudi Arabia and the World Economic Forum have signed a letter of intent (LoI) to establish a new accelerator programme to help ignite innovation in the kingdom.
This follows the participation of a high-level delegation from Saudi Arabia in a multilateral meeting with the World Economic Forum's (WEF) leadership at WEF's 2023 Annual Meeting in Davos, Switzerland.
Prince Faisal Bin Farhan Al Saud, Minister of Foreign Affairs; Princess Reema bint Bandar Al Saud, Ambassador to the US; Abdullah bin Amer Alswaha, Minister of Communications and Information Technology; Bandar bin Ibrahim Alkhorayef, Minister of Industry and Mineral Resources; and Faisal F Alibrahim, Minister of Economy and Planning, met with Klaus Schwab, Founder and Executive Chairman of WEF, and Børge Brende, President of WEF, to explore areas of mutual interest.
During the meeting, Abdullah bin Amer Alswaha, Chairman of KACST and Chairman of the Board of the Research, Development and Innovation Authority (RDIA), and Brende signed the LoI.
Under the LoI, KACST will work alongside WEF to connect experts and knowledge partners from the public and private sector to identify and unlock new promising markets as part of the ongoing work to transform Saudi's economy.
During the meeting, the delegates highlighted the kingdom's role as a Pioneering Partner in the Forum's Global Collaboration Village, which will leverage the metaverse to serve the global community.
Saudi Arabia intends to build a house in the village opening a door to opportunities, investment, and collaboration between various national stakeholders and international entities. It will be used as a tool for attending events, interacting with people, sharing knowledge and making announcements.
It was highlighted in the meeting that Aramco, as one of Saudi's leading private sector entities, is the first company to build a house in the Global Collaboration Village.
The meeting also covered investment in green technologies, as well as female and youth empowerment as a vital enabler in effective climate action. The meeting provided updates on the progress of projects launched at WEF's 2022 Annual Meeting.
In addition, delegates addressed the future of the mining industry in Saudi Arabia and its untapped opportunities, especially considering the increasing demand for minerals and the importance of leveraging the Fourth Industrial Revolution and green technologies. -TradeArabia News Service