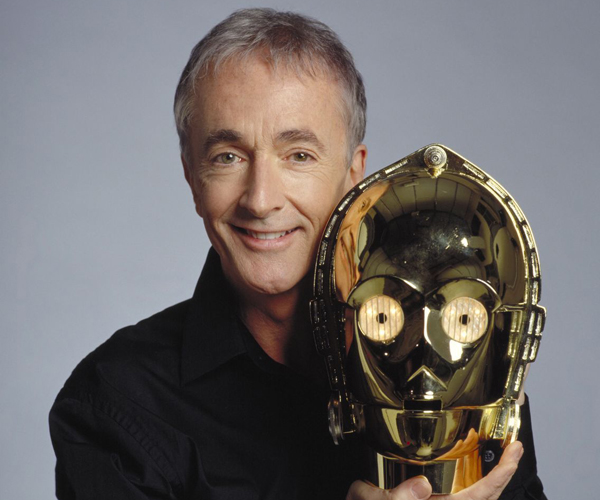 Anthony Daniels
MEFCC Anthony Daniels to join the celebrity line-up this year
DUBAI, January 29, 2023
Middle East Film and Comic Con (MEFCC), the definitive pop culture festival in the region, is announcing another out-of-this-world addition to its celebrity line-up, which will feature Star Wars actor Anthony Daniels.
He is best known for bringing the most beloved character C3PO to life and is the only actor who has appeared across all nine of the Star Wars films. Daniels has also played a part in many of the franchises' spin-offs. Tickets are now available for the 11th edition of MEFCC, taking place from March 3 to 5, 2023 at Abu Dhabi National Exhibition Centre (ADNEC).
Joining the current International Artist Alley which is sponsored by Manga Arabia are legendary comic artists Ken Lashley and Ryan Ottley. Ryan Ottley is highly regarded for his iconic masterpieces on Marvel titles such as The Amazing Spider-Man and Hulk. He was personally chosen by Robert Kirkman to work on Invincible and had the opportunity to draw 144 out of 127 issues.
Comic book
Ken Lashley, on the other hand, has worked across the comic book industry with DC (Suicide Squad, Superwoman, Batwing, Superboy) and Marvel (Excalibur, X-Men Gold, Rising Stars, Black Panther).
To join the highly sought after WCS Preliminaries, participants will need to enter in teams of two, perform onstage and attend a prejudging round where all the costumes and props will be examined by esteemed professional cosplay judges and a representative from the WCS Board. The winners of this cosplay category will get the chance to represent the UAE at the World Cosplay Summit in Nagoya, Japan.
Movie lovers will be spoiled for choice at this year's Cine Club line-up. There are exclusive screenings of feature films, trailers and featurettes with shout-outs from one's favourite star and franchises; Q&A panels with guest stars sharing their personal experiences in the industry, Community Meet-up's where one'll get to celebrate one's passion with one's fandom and even a full celebrity panel, where stars go head-to-head with their stories in front of audience of superfans and enthusiasts.
Hallyu wave
Not to miss is the KPOP Meets KDrama panel, which features a fun panel celebrating the Hallyu wave and all things K-Entertainment and an exciting retrospective on 10 years of the MEFCCI.
Other galleries to check out at this year's MEFFC are the Retail Area where fans can snap up a range of collectibles, signed merchandise, exclusives and customised art, while the outdoor Festival Stage in the Festival Plaza boasts a packed itinerary of cosplay, dance competitions, pop quizzes, karaoke and more. The plaza will also host Kid's Zone and the Foodie's Village, with food trucks and customised MEFCC menus.-- TradeArabia News Service