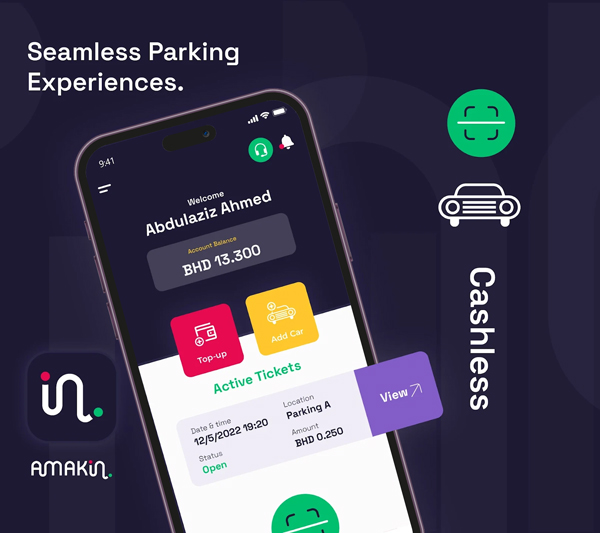 The Amakin Mobility app
'Amakin Mobility' app launched for seamless parking
MANAMA, February 28, 2023
Bahrain Car Parks Company (Amakin) has launched its new mobile application 'Amakin Mobility' to enable seamless parking experiences in the kingdom.
The app was developed in partnership with PASS, a Kuwait based company, which is the first Middle Eastern smart parking management system designed to make parking more efficient and hassle free.
The launch is in line with Amakin's vision to be the preferred mobility integrator in the region and is a key component of their five-year digital transformation to advance in the mobility space by delivering cutting-edge solutions.
Innovative features
With the Amakin Mobility application, users can set up an account in just a few minutes on their preferred devices and add their vehicle, gaining access to a number of innovative features designed to simplify and automate the entire parking experience.
The app allows users to scan parking tickets at multiple Amakin locations, reducing the usage of paper parking tickets and human interaction. When it comes to payments, users can top up their balance using the application through multiple payment methods to make direct payments for parking. Based on their location, the app allows customers to find the nearest Amakin car park which saves time, and ensures a safe parking experience. Amakin Mobility is available to download for both Android and iOS devices.
In line with consumer feedback and experience, Amakin will continue to add new features and options to their mobile application to continue elevating the parking experience at all their sites.
Strategic plan
Tariq Al-Jowder, Chief Executive Officer for Amakin stated: "This is a purpose-driven achievement to deliver an innovative solution that caters to everyone's needs when it comes to parking. We want to create a seamless parking ecosystem, which can be achieved by employing cutting-edge technology to simplify and automate every step. Amakin Mobility is the result of our vision for digital transformation, which was implemented as part of our 5-year strategic plan, and this is only the beginning. We aim to continue introducing valuable features based on real feedback, and we look forward to a brighter future for the mobility sector in the kingdom."
In the past few years, Amakin has been at the forefront when it comes to launching in-demand features and solutions such as the introduction of Apple Pay and BenefitPay to facilitate seamless contactless payments for their parking services.-- TradeArabia News Service