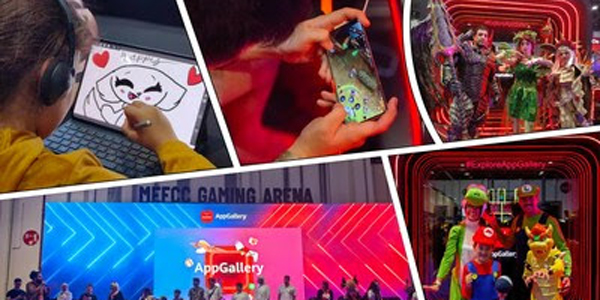 AppGallery at MEFCC
AppGallery brings its A-game to MEFCC
ABU DHABI, March 9, 2023
AppGallery, one of the top three app marketplaces, made its second appearance in a row at the Middle East Film & Comic Con (MEFCC), showcasing an extraordinary portfolio of services. This delivered an epic experience for fans of all ages with several product exclusives and engaging activities.
The 11th edition of MEFCC was held from March 3 to 5, 2023, at the Abu Dhabi National Exhibition Centre (Adnec). The region's largest pop culture festival offered comic fans an immersive experience from videos to movies, creativity, arts, cosplay and mobile gaming.
AppGallery's fan booth has demonstrated a great engagement among attendees with its commitment to providing VIP users and gamers with the latest trends and best experiences in mobile gaming at the MEFCC. The booth also offered an opportunity to learn more about AppGallery, and offered an immersive experience for visitors to explore and discover a wide selection of the newest and most exciting local and global apps and games available on AppGallery.
Mobile Gaming
Fans also enjoyed thrilling and rewarding Mobile Gaming competitions featuring PUBG and MLBB games at the convention, where they could experience the Huawei suite of products, and preview exclusive game content.
In addition, AppGallery offered a unique opportunity for artistic individuals to showcase their creative abilities by introducing the "Created By Huawei MatePad" workshop. Popular artists created spectacular drawings using Huawei MatePad, which participants and art enthusiasts then replicated using the device.
The event also featured Huawei's top gaming and app partners, including Infinity Kingdom "حرب الممالك"- Sawa Group, "PUBG Mobile"-Tencent, Mobile Legends: Bang Bang - Moonton, Lords Mobile – IGG, Zombie Siege - Artal Games, Evony: The King's Return - Flexion Mobile, The Ants: Underground Kingdom - Flexion Mobile, Dragon Raja - Flexion Mobile and Revenge of Sultans – Onemt.
Pop culture festival
"AppGallery is proud to have taken part in the region's biggest pop culture festival to bring a great experience to games, movies, and comic lovers, and deliver them an exciting line-up of innovative attractions. We are extremely pleased with our users' popularity and appreciation for our AppGallery offerings, which demonstrates our commitment to nurturing innovative collaborations and providing them with the best experiences in the region," said William Hu, Managing Director of Huawei Consumer Business Group, Middle East and Africa Eco Development and Operation.-- TradeArabia News Service