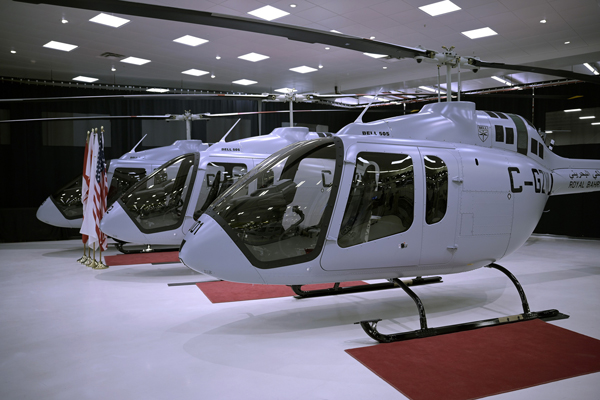 The Bell 505 helicopters
Three Bell 505 helicopters delivered to Bahrain
MANAMA, March 15, 2023
Bell Textron, a Textron company, announced the delivery of three Bell 505 helicopters to the Royal Bahrain Air Force. Bell delivered the aircraft during an inspection and acceptance event in February 2023 at Bell's Mirabel facility.
"We are honoured to provide the Bahrain Defence Force another premiere Bell asset to train the next generation of Bahrani pilots," said Sameer Rehman, managing director, Africa and Middle East, Bell. "Generations of Bahraini pilots have flown in Bell helicopters, and the Bell 505 will continue the tradition of excellence for years to come."
The Bahrain Defence Force has flown the Bell 212 and multiple generations of AH-1 attack helicopters. This delivery marks the first 505 helicopters for the country and includes a package with training, tooling and spares.
Low operating costs
"With low operating costs and high reliability, the Bell 505 has emerged as a customer favourite to prepare cadets for a safer and more effective transition to advanced helicopters," Rehman added.
The Kingdom of Bahrain joins other countries in the region employing the Bell 505 as their advanced military trainer of choice. Horizon International Flight Academy in the UAE operates 12 Bell 505s, and the Royal Jordanian Air Force signed an agreement for 10 Bell 505s in November 2022. More than 30 Bell 505 helicopters operate throughout the Middle East and Africa.
Additionally, the Bell 505 is the military training helicopter for the Montenegro Air Force, Republic of Korea Army and Republic of Korea Navy.
The Bell 505 recently became the world's first single engine helicopter to fly on 100% sustainable aviation fuel.-- TradeArabia News Service