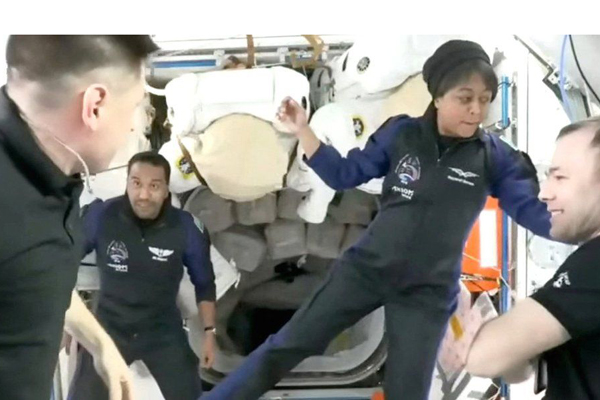 Saudi astronauts create history, safely dock at space station
RIYADH, May 23, 2023
Saudi astronauts Rayyanah Barnawi and Ali AlQarni - along with their mission team crew members Peggy Whiston and John Shoffner - arrived at the International Space Station (ISS) yesterday (May 22) at 16:24 Makkah Time, reported SPA.
Nasa has announced the successful docking of spacecraft Dragon 2 after 16 hours of its launch on Sunday from the Kennedy Space Centre at Cape Canaveral, Florida.
The docking of the 'Dragon 2' spacecraft with the ISS is a historic moment for the Saudi astronaut Rayyanah Barnawi who becomes the first ever Arab woman to fly into space to the ISS, it stated.
It is a historic moment for the Kingdom of Saudi Arabia, which is now the first Arabic country to send a woman on a space scientific mission just as it is also one of the few countries with two astronauts on board the ISS simultaneously.
The mission crew was given a grand welcome by the International Space Station team on arrival.
The mission crew of AX-2 then quickly changed their space suits and joined the ISS team preparing to carry out their mission in space, where they will conduct 14 pioneering research experiments in microgravity that are set to have an important scientific impact, reported SPA.
The studies to be undertaken by the two Saudis range from human research and cell science to artificial rain in microgravity in order to develop space science and progress in sending more manned spacecraft to the moon and to Mars, it stated. In addition, the duo will also conduct three educational awareness experiments.
This space programme has placed the Kingdom as an important player in the global space science research community and as a main investor in the service of humanity and its future, it added.
The Saudi Space Commission confirmed that both Barnawi and AlQarni are fully trained and prepared to carry out their mission in space. SSC is also confident that they will accomplish the mission planned successfully and return safely to earth.
The efforts by the SSC are designed to prepare future astronauts and engineers through quality educational and training programs, participation in scientific experiments, international research, and future space-related missions – all of which will contribute to raising the status of the Kingdom and to achieving the goals of Vision 2030, said the SPA report.
The results of which will enhance the Kingdom's global position within the field of space exploration and service to humanity. It will also confirm the role of Saudi research centers in making a scientific impact in this field, it added.