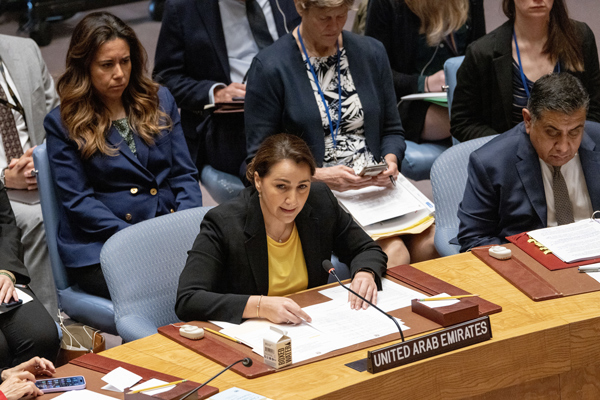 Almheiri addressing the UN Security Council Meeting
UAE calls for urgent global action on food security and climate
ABU DHABI, May 25, 2023
The UAE Minister of Climate Change and Environment, Mariam bint Mohammed Almheiri, has called for urgent global action to tackle food insecurity and climate change.
Almheiri also discussed key related topics with Alain Berset, the President of Switzerland and current President of the UN Security Council at the Security Council sessions at the United Nations headquarters in New York, US.
At the UN Security Council Meeting titled 'Ensuring the security and dignity of civilians in conflict: addressing food insecurity and protecting essential services', Almheiri emphasised the rapidly escalating impact of climate change on food security, the need for increased international humanitarian law compliance, and the role of climate change as a 'threat multiplier'.
Key points
Her key points aligned with the Secretary-General's report on the Protection of Civilians in Armed Conflict, which highlighted that in 2022, over a quarter of a billion people faced acute hunger in 58 countries, many amidst armed conflict.
Almheiri said: "A significant reason that civilians continue to suffer from conflict-induced food insecurity is the gap in implementing clearly defined rules. Our collective recommitment to upholding international humanitarian law is essential."
She added: "At COP28, which will be hosted in the UAE later this year, we plan to adopt a robust and solutions-led approach to climate action. Food and water systems will feature high on the agenda, reflecting their central role in the abiility of conflict-affected and fragile states to recover from disasters."
Minister Almheiri then attended a lunch hosted by President Berset and discussed how nations can work together to progress values of peaceful coexistence, and human fraternity for sustaining peace and preventing conflict.
Inclusive COP28
Almheiri stressed the UAE's commitment to host an inclusive COP28 later this year, focusing on food and water systems in the context of climate change.
At the 'Group of Friends for Food Security and Nutrition' briefing session at the UN, Almheiri set out the UAE's strategic vision for food systems and security. Her address underscored the importance of aligning the food and climate agendas.
She also highlighted the efforts of the UAE in confronting domestic food security challenges, focusing on sustainable, technology-driven food supplies, and diversifying international food sources.
Further emphasising the urgency of the matter, Almheiri said: "It is clear that food systems must transform—a must if we are to align with the goal of 1.5 C warming outlined in the Paris Agreement. We must reduce emissions and build resilience to ensure food security."
Sustainable technologies
Given the UAE's geographical position, with limited water and arable-land resources, Almheiri outlined the steps the UAE is taking to meet its domestic food security challenges head-on. She also stressed the nation's focus on sustainable, technology-enabled food supplies, diversifying international food sources, facilitating more robust global agri-business trade, reducing food waste, improving nutritional intake, and enhancing capacity to respond to food security crises.
Almheiri said: "Agtech solutions are central to our strategy for greater domestic food security. Innovations like vertical farming, hydroponics, and AI-driven irrigation systems are key to creating a more sustainable, efficient, and resilient food production system in the UAE."
She also stressed the crucial role of COP28 as an opportunity to integrate food systems into climate policy and encourage states and non-state actors alike to make concrete commitments towards systemic change. She highlighted the importance of collective action.
Food systems
Almheiri said: "We strongly encourage countries to commit to food systems in their updated Nationally Determined Contributions by 2025 and prioritise food systems in climate policy."
Minister Almheiri's engagements during her visit to the US underline the UAE's commitment to climate change and food security, underscoring the importance of these themes as the country celebrates the Year of Sustainability in 2023 and prepares for its pivotal role as host of COP28 in Dubai Expo City between November and December this year.-- TradeArabia News Service